Ukraine started with a defeat at the European Futsal Championship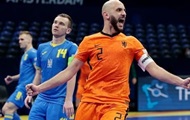 Our team lost to the hosts of the tournament – the Netherlands.
As part of the first round of the group stage of the 2022 European Futsal Championship, the Ukrainian team met with the national team of the Netherlands, which hosts the tournament.
In the very first minute of the meeting, Kosenko's wards managed to open the opponent's gate thanks to a goal from Zvarych. Then the teams looked at each other for a long time, creating several chances for the entire half.
Immediately at the start of the second twenty-minute period, the Netherlands turned the game around by scoring twice. Goals were scored by Saaduni and Attaibi. The Ukrainian national team tried to bounce back, but conceded the third goal after a phenomenal shot from Buzambu, who sent the ball into the top nine.
In the final minutes of the game, Kosenko's wards played five of them. They managed to win back one ball after an accurate shot by Shoturma, but they failed to score more.
Thus, the Ukrainian team no longer has the right to lose in order to reach the playoffs of the tournament.
In the next match, our team will play with Serbia (January 23), and in the last round – with Portugal. In their face-to-face match, the Portuguese team won (4:2).
Netherlands – Ukraine 2:3 (1:0, 1:3)
goals: Saaduni, 22, Attaibi, 24, Buzambu, 30 – Zvarych, 1, Shoturma, 38
Available on ISPORT schedule and match results European championship.
.