A film studio and a sports arena will appear in space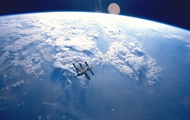 The SSE-1 module will be docked to Axiom Station, the world's first space tourism station, which will separate from the ISS in 2028.
Space Entertainment Enterprise, which produces Tom Cruise's film about space, has announced plans to build a sports arena and film studio in space. Writes about it Variety.
"SEE-1 is an incredible opportunity for humanity to transition into another reality and begin an exciting new chapter in space," the company said in a statement.
It is noted that the site should be operational by the beginning of winter 2024.
The object will be called SEE-1 module. Its main purpose is to shoot films, TV programs, music and sports events.
According to the project, it will be possible to conduct live broadcasts from the station.
The construction will be carried out by Axiom Space. Recently, she has already received NASA approval for the construction of the commercial part of the ISS.
"SEE-1 will be a unique and affordable home to limitless entertainment possibilities in a place filled with innovative infrastructure that will open up a new world of creativity. With world leader Axiom Space building this cutting-edge, revolutionary facility, SEE-1 will provide not only the first, but and the highest quality space structure to bring the $2 trillion global entertainment industry into low Earth orbit."
Recall, on September 16, the American company SpaceX launched the Inspiration4 mission, during which, for the first time in the history of the world, a civilian crew went into space and made a tourist flight.
The ship with the film crew returned from the ISS
News from Korrespondent.net in Telegram. Subscribe to our channel
.