Blinken announced the topics of negotiations with Lavrov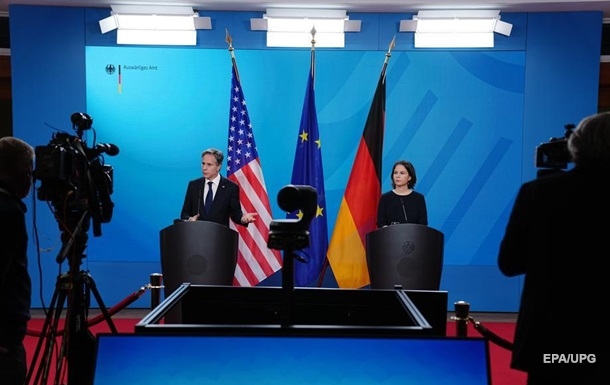 The heads of US and Russian diplomats will meet tomorrow. And today Blinken arrived in Berlin after a visit to Kiev.
On January 21, in Geneva (Switzerland), the head of the US State Department, Anthony Blinken, will meet with Russian Foreign Minister Sergei Lavrov. The head of American diplomacy spoke about the topics of the meeting on Thursday, January 20, during his visit to Berlin.
Blinken said that at the meeting with Lavrov he would present to him the common position of the United States and its European allies.
"I will be able to lay out the general vision, the general preferences of the US and our European allies and partners on how to find a diplomatic way forward to de-escalate this conflict," he said at a press conference with German Foreign Minister Annalena Burbock.
Blinken said that the United States, together with its allies, is in a stronger position than Russia, and recalled the inevitability of "quick and massive consequences" if Russia chooses the path of "further aggression."
The head of the State Department does not see anything provocative in the supply of weapons to Ukraine by the West.
"So that the Ukrainians have the opportunity to defend themselves … All we are trying to do is make sure that Ukraine can defend itself and that aggression is prevented," he said.
"Sanctions may not be the same. But they will be coordinated and will reinforce each other," the US Secretary of State said.
Blinken also spoke about Nord Stream 2.
"It is also worth noting that as long as Nord Stream 2 is not flowing gas, it is a lever of pressure in the interests of Germany, the United States and our allies, but not for Russia," the US Secretary of State said, recalling that Washington had previously opposed the construction of the pipeline .
Earlier, US President Joe Biden assessed the negotiations between the West and Russia on security guarantees, calling them fruitless.
The Kremlin today noted positive aspects in the negotiations.
News from Korrespondent.net in Telegram. Subscribe to our channel
.