Crises and bad decisions. Year of President Biden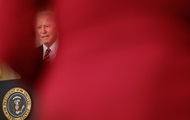 During this time, he failed to fulfill most of his campaign promises and made a number of unsuccessful political decisions. His popularity in society is declining.
Many had high hopes for Joe Biden, who was sworn in as the 46th President of the United States on January 20, 2021. Just a few weeks earlier, radical supporters of his predecessor Donald Trump stormed the US Capitol, the symbol of democracy. E
This clearly demonstrated the depth of the split in American society that Biden inherited from Trump. Therefore, one of the most important promises of the new president was the unification of the nation.
In his inaugural address, Biden stressed that he was willing to take the risk of starting over and "moving fast and strong" because "there's a lot to fix, a lot to repair, a lot to heal."
81 million voters voted for Biden, more than any president before him. In addition, he won narrow majorities in both houses of Congress.
But now, a year after taking office, there seems to be little left of those successes. Inflation is rising, the pandemic is out of control, and Biden's approval rating has fallen from 50 percent last summer to 41 percent on Christmas Eve.
"The softest word to describe Biden's first year in office is 'disillusionment,'" says Bret Stevens, a conservative but critical of Trump columnist for The New York Times.
In his opinion, Biden made bad political decisions, such as leaving Afghanistan. This affected his reputation, his ability to win the support of Congress, and ultimately his credibility as a leader of world power.
"Biden became president at a difficult time"
The fall in Biden's popularity in society was not only due to his political mistakes, said Virginia Sapiro, emeritus professor of political science at Boston University.
Biden came into office at a very difficult time, she said.
The economic downturn, the pandemic, and the Republican Party, whose influential members continue to claim that Biden stole the election victory from Trump, is "a big pile of rubble that needs to be cleared first before anything can be achieved," Sapiro argues.
Another reason for the decline in public support for Biden, in her opinion, may be the fact that many moderate Republicans voted for him because they did not want to support Trump. However, in essence, they want a conservative policy.
Failed foreign policy, split in American society
But not everything was bad in the first year of Joe Biden's presidency. In March last year, he managed to enlist the support of both houses of Congress, which approved a $1.9 trillion anti-crisis package.
As part of this program, many families, especially hard-hit by the pandemic, received financial assistance. Biden scored another victory at the end of the year when he secured Republican approval for a $1.2 trillion U.S. infrastructure plan.
However, in the middle of the year, what many consider Biden's biggest mistake happened: the withdrawal of American troops from Afghanistan in August. As a result, the Taliban seized power in the country at breakneck speed, which led to a massive setback in its development, especially with regard to women's rights and human rights in general.
Seth J. Jones, vice president of the Washington-based Center for Strategic and International Studies, criticizes the lack of preparation for withdrawing from Afghanistan: "Both the withdrawal process and the result have left the United States looking clumsy, incompetent, and ultimately weak."
According to Jones, the damage to the image of the United States is enormous. Many countries now face the question of whether the United States is still a reliable partner.
So far, Biden has failed to keep his promise to unite the nation. According to polls, 40 percent of the US population believes that Biden is not a legitimate president.
This indicates deep divisions in society. And the president has so far barely been able to implement his legislative agenda, too often Republican deputies and senators have torpedoed his plans.
One of his biggest failures is the failure of Build Back Better, a comprehensive investment program in childcare, education and climate protection that would have delivered on several of Biden's campaign promises.
His efforts to reform the police also failed in September last year, as the parties failed to agree on how to deal with the legal immunity of the police.
Who will come after Biden?
2021 has been a tough year for Joe Biden, but the next three years won't get any easier. The US foreign policy challenges are the rise of China in the Pacific, political instability in the Middle East, and the threat of a Russian invasion of Ukraine.
To restore confidence, Washington will have to "be cool and act decisively against Russia, China or Iran," says Seth J. Jones. However, there is "much more talk than action."
Domestically, this year will also be pivotal, as Biden could lose his narrow majority in the Senate in November's midterm elections.
It will then make it even more difficult for him to push for the laws that are still on his agenda: perhaps a more truncated version of the Build Back Better bill and advancing electoral reform.
First of all, this concerns the abolition of the so-called filibuster, a procedure that allows a minority to block a bill objectionable to it by dragging out discussions that are not limited in time in the Senate. For a vote to take place, 60 out of 100 senators must agree to end the debate.
Another question: Will Biden run for president again? In all likelihood, no – it's an open secret in Washington, explains columnist Bret Stevens. Biden's age, of course, also plays a role: in 2020, at 78, he was the oldest newly elected US president, and by the next election in 2024, he will already be 82 years old.
Therefore, Bret Stevens believes that Biden should concentrate on the main tasks and challenges of the country. And the Democratic Party needs to find good candidates to run in the 2024 elections. Because the Republicans, Stevens believes, will be strong contenders.
A source: Russian service DW
News from Korrespondent.net in Telegram. Subscribe to our channel
.