Blinken and Lavrov meeting. The media write about the evacuation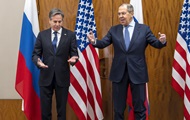 The summit of the heads of the diplomatic departments of Russia and the United States was the second meeting between the delegations of the two countries on security issues.
US Secretary of State Anthony Blinken held talks in Geneva with his Russian counterpart Sergei Lavrov. The meeting was the second between the delegations of the two countries on the "security guarantees" demanded by Moscow, the hostage of which was Ukraine. Against this background, the media report on preparations for the evacuation of US diplomats from Ukraine. Korrespondent.net tells the details.
Interim negotiations
On January 21, US Secretary of State Anthony Blinken and Russian Foreign Minister Sergei Lavrov concluded their talks earlier than Russian news agencies announced, according to which the meeting was scheduled for two hours.
In turn, Lavrov explained: "We planned this meeting for an hour and a half, because it was approximately clear to us what we would discuss." Before the talks began, Blinken and Lavrov made it clear that they did not expect a breakthrough. At the end of the conversation, both held separate press conferences.
🇷🇺/🇺🇸 negotiations between Russian Foreign Minister #Lavrov and US Secretary of State Antony #Flash are starting!

🎙FM Lavrov's press briefing to follow right after the talks (arond 1 pm local time) pic.twitter.com/PkcOjCFl7Y

— Russian Mission in Geneva (@mission_russian) January 21, 2022
In recent weeks, a whole series of international meetings on Ukraine has already taken place, but they have not made it possible to achieve significant detente. Russia has pulled about 100,000 troops to the Ukrainian border and is demanding legally binding guarantees from NATO that Ukraine will not join.
Western countries call these demands unacceptable, emphasizing that NATO's doors will remain open to new members. In the event of an invasion, the United States promises Russia catastrophic sanctions for the economy.
Blinken recalled this during his visits to Kiev and Berlin, which took place on the eve of the meeting with Lavrov. In these capitals, the Secretary of State met both with Ukrainian and German politicians, as well as with French and British ones.
"We made it clear that if any Russian troops crossed the border of Ukraine and committed a new act of aggression against Ukraine, there would be a quick, tough and united response from the United States, allies and partners," he said in Berlin. More about this in the material "Cripple price" for the Russian Federation.
Shortly after the completion of negotiations, Bloomberg, citing sources, reported that the US State Department may in the coming days announce a mandatory evacuation of the families of diplomats from Ukraine and a voluntary evacuation for part of the staff. But the decision has not yet been made.
The decision to evacuate will not signify US confidence in a Russian attack on Ukraine, but merely reflects preparations for a possible course of events, one Bloomberg source said.
A White House spokesman explained to the agency that this is about the usual planning in case the situation deteriorates.
It is assumed that the embassies of the EU member states have developed their plans, but no steps are being taken to evacuate the relatives of diplomats, the agency's source in European diplomatic circles said.
Earlier, the New York Times reported that Russia was preparing to evacuate its diplomats from Ukraine.
Lavrov: "Russia has never threatened"
The Russian minister was the first to speak. He said that the United States had promised to provide written responses to Russia's proposals for "security guarantees" by January 30.
"We had an intermediate meeting, Anthony Blinken told me that he was satisfied with the exchange of views that had taken place, which would help them next week, it was already emphasized several times, to provide us with a written reaction," Lavrov said at a press conference.
Asked whether the US responses to Russia's proposals could be made public, he said that this question would need to be asked to American colleagues and added that he would ask Blinken about it.
The head of Russian diplomacy added that at the meeting, the American side recalled the freedom to choose alliances in the context of NATO expansion, but Moscow does not accept this argument.
"But we have cited a number of documents in which this freedom of choice of alliances is conditioned by the need to avoid any steps that will strengthen the security of one state at the expense of the security of other states," he said.
According to him, Blinken confirmed that US President Joe Biden spoke of his readiness to promote the implementation of the Minsk agreements.
"And I urged him once again to use his decisive influence on the Kiev regime to force him to come to his senses and stop sabotaging this most important document, which is designed to put an end to the intra-Ukrainian conflict," Lavrov said.
Moscow does not object to Washington's involvement in the process of peaceful settlement of the situation in eastern Ukraine, according to the Russian Foreign Ministry's responses to media questions received at Lavrov's press conference.
"Of course, on the understanding that his participation will bring a positive "added value," the ministry added.
Russia has never voiced threats against the Ukrainian people, the minister also said at a press conference: "Russia has never, nowhere, never threatened the Ukrainian people through the mouths of its official representatives."
Lavrov: "Russia has never threatened the Ukrainian people." Well, I ran into Zelensky🇺🇦.🤔 pic.twitter.com/CRwtIbpzeW

— Alexander (@avaza1972) January 21, 2022
Lavrov also criticized the documents on Russian disinformation that Washington prepared for the meeting: "Impossible to read."
Blinken: US will defend its principles
The US will submit written responses to Russia's proposals for security guarantees in Europe "next week," Blinken confirmed at a press conference following talks in Geneva.
The Secretary of State said he heard Lavrov say that Russia has no "intention to invade Ukraine." "But again, we are looking at what is visible to everyone: these are deeds and actions, not words, which is the difference," Blinken added.
"It is important to be clear about what we will not do… Among these things is that we are not ready to compromise our fundamental principles, including NATO's open door policy," he said.
The American diplomat stressed that he "made it clear" to Lavrov that there are principles that US partners and allies are ready to defend.
"We have made it clear that any Russian armed forces crossing the Ukrainian border will be considered an invasion, and there will be a swift, tough and united response from the United States, as well as our partners and allies," Blinken said.
He noted that he conveyed to Lavrov the position of the United States and European allies, which is "strong support for Ukraine, its sovereignty and territorial integrity."
If Russia wants to convince the world that there are no aggressive plans, then it should start by withdrawing its troops from Ukraine's borders, Blinken said.
In my meeting with Foreign Minister Lavrov today, I stressed that Russia has two choices: Diplomacy and de-escalation or massive costs to Russia. Our strong preference is to pursue the path of diplomacy. pic.twitter.com/k7RT5qLzXJ

— Secretary Antony Blinken (@SecBlinken) January 21, 2022
Blinken also said that through its actions in Ukraine, Russia has achieved the opposite effect of what it wanted to get.
"Before 2014, in Ukraine, the rating of a good attitude towards the Russian Federation was 70 percent, and now it is 25 percent … Joining NATO was supported by 25-30 percent, and now it is 60 percent … [США] sought to reduce forces in Europe, but after 2014, NATO felt that it needed to increase its presence on the eastern flank," he said.
At the same time, the head of the State Department called the conversation with Lavrov "open and thorough," adding that the United States "agreed to further negotiations.
News from Korrespondent.net in Telegram. Subscribe to our channel
.