British help. Elite fighters arrived in Ukraine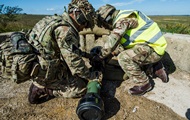 Following the delivery of one of the best anti-tank systems in the world, the UK sent instructors to Ukraine to train the military personnel of the Armed Forces of Ukraine.
London continues to help Kiev resist Russian aggression: after the delivery of two thousand units of anti-tank weapons, elite fighters went to Ukraine – instructors who will teach our military to use new equipment. British reconnaissance aircraft have also been spotted as part of a quiet but visible build-up of British support for the Ukrainian Armed Forces. Korrespondent.net tells the details.
Let's help, teach
A group of about thirty elite British military personnel arrived in Ukraine. Instructors will train the Ukrainian armed forces to handle the new anti-tank weapons supplied by the UK amid fears of another Russian invasion, informs Sky News.
Members of the Ranger Regiment, part of the Army's newly formed Special Operations Brigade, flew out on military planes, which have also flown a total of about 2,000 anti-tank rocket launchers into the country over the past week.
In addition, the flight-tracking program recorded a Royal Air Force C-17 transport aircraft that repeatedly flew from the UK to Ukraine and back.
For the first time, the Daily Mail reported on the airlift of 2,000 anti-tank missile launchers. After that, a journalist from the UK Defense Journal published on Twitter footage of the flights, which, according to him, began on Monday, January 17th.
British transport aircraft are now in their third day of delivering "thousands" of anti-tank weapons to Ukraine in the face of a massive build-up of Russian troops.https://t.co/Vzj6nuTscq

— George Allison (@geoallison) January 19, 2022
The UK has delivered a next-generation light anti-tank weapon, the NLAW (Next Generation Light Anti-tank Weapon), which the manufacturers describe as "the first ever single-soldier missile system that quickly disables any main battle tank with a single shot." Read more about weapons in the material What anti-tank systems Britain gave to Ukraine.
The weapons were delivered after British Defense Secretary Ben Wallace announced in Parliament on January 17 that he intends to increase military support for Ukraine, which includes more British troops on the ground as trainers.
"We have taken the decision to supply Ukraine with light anti-tank defensive weapon systems," the minister said, adding that "a small number of British personnel will also receive initial training for a short period of time as part of Operation Orbital before returning to the UK."
Operation Orbital is the name of a British training mission in Ukraine that was set up in 2015 following Russia's annexation of Crimea.
There will be more
"Let me be clear: our support is for short-range and defensive purposes; it is not a strategic weapon and does not pose a threat to Russia," the British defense secretary stressed. "The systems must be used for self-defense, and British personnel who conduct initial training will return to the UK after its completion".
But Russia viewed the move with suspicion. The Russian embassy in the UK tweeted: "It is clear that the supply of deadly weapons from the UK to Ukraine will only deepen the crisis and heighten tensions."
In an interview with the Daily Mail, Wallace said that London was going to increase military support for Kiev, adding a new weapons package to the already delivered 2,000 NLAW anti-tank missile launchers.
"I do not exclude anything within the framework of helping Ukraine to ensure self-defense. The UK is determined to support Ukraine, its sovereignty and our mutual interests. We have been helping them build up their defense capability for eight years now and have decided to increase this assistance in connection with Russian aggression. Britain always supports its allies ", said the minister.
Kiev called the supply of anti-tank systems "a necessary first step" that should be an example for other Western governments.
The Ministry of Defense of Ukraine confirmed the receipt of weapons and stated that this would strengthen the defense capabilities of our country, and the funds provided would be used exclusively for defense purposes.
The Times, citing its sources in the Ministry of Defense, reports that the UK is considering sending hundreds of troops to Ukraine's neighboring countries that are members of NATO. London believes that this could become a "deterrent" in the event of an invasion of Ukraine by Russian troops.
NATO member states discussed at a high level the need to strengthen their presence in Poland, Lithuania, Latvia and Estonia.
The UK is leading a 1,200-strong battlegroup in Estonia, where it has 830 troops, engineers, tanks, self-propelled artillery, armored fighting vehicles, air defense and reconnaissance.
There are 140 British troops in Poland as part of NATO's mission to strengthen its forward presence.
According to The Times, about 100 thousand Russian troops have accumulated around the Ukrainian border. They are equipped with tanks, armored fighting vehicles, rocket artillery and short-range ballistic missiles.
British Foreign Secretary Liz Truss warned Russia on January 21 that in the event of an invasion of Ukraine, Moscow would get a war comparable to campaigns in Afghanistan or Chechnya.
"If they have to, the Ukrainians will fight to defend their country. The invasion will suck into a terrible swamp, which we know from the Soviet war in Afghanistan or the conflict in Chechnya," the head of the Foreign Ministry said.
At the end of last year, Ukrainian President Volodymyr Zelensky announced that the UK would allocate an additional £1 billion to support Ukraine. Thus the total amount of British support increased to 3.5 billion pounds.
News from Korrespondent.net in Telegram. Subscribe to our channel
.