The youngest in history. Girl pilot circled the world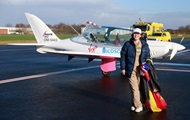 19-year-old Zara Rutherford's solo trip around the world lasted five months. The girl has flown more than 50 thousand kilometers and now dreams of going into space.
A plane landed in Belgium, on which the youngest girl in history flew around the globe alone. In five months, she circled five continents, setting a new world record. Korrespondent.net tells the details of a grandiose journey.
You are not alone
The plane of 19-year-old Zara Rutherford landed on January 20 in the Belgian city of Kortrijk, 90 kilometers west of Brussels, at the same airfield from which she set off on August 18 last year.
She became the youngest woman to circumnavigate the world solo writes euronews. The previous record was held by American Shaesta Wise, who also completed a solo circumnavigation in 2017 at the age of 30, becoming the youngest female pilot at the time. The record holder among men – Briton Travis Ludlow – is 18 years old.
"As a child, I didn't see many other female pilots. I always thought it was very depressing," Zara told reporters after landing her single-seat Shark sports plane at Egelsbach, an airfield a few kilometers from Frankfurt.
"Therefore, I hope to motivate more girls to go into aviation and how to show: if a girl likes aviation and she sees me, let her know that she is not alone," the record holder added.
Rutherford's circumnavigation route took him through Iceland to Greenland and down eastern Canada and the United States through Central America to Colombia and then back north to Alaska.
She flew over Russia, Korea, Indonesia and India to the Middle East before returning to Europe in her Shark Aero aircraft, designed in the Czech Republic and built in Slovakia. It is capable of speeds up to 295 kilometers per hour. In total, she flew 52 thousand kilometers.
Along the way, Zara encountered extreme cold over Russia and narrowly missed North Korean airspace.
The girl recently graduated from high school with a bias in mathematics, economics and physics and plans to further study computer science or computer science at the university.
"In both aviation and STEM (science, technology, engineering, math) the gender gap is huge," Rutherford wrote on her website. "My goal is to encourage girls and young women to pursue their dreams and advance careers in aviation and STEM: Only five percent of commercial pilots and 15 percent of computer scientists are women."
In the cockpit from infancy
Zara is from a Belgian-British family, her mother is an amateur pilot and her father is a professional, transporting aircraft for clients all over the world. It is not surprising that Zara first got into the cockpit at an early age, and at the age of 14 she began to learn to fly herself. The girl received her first license in 2020, when she turned 18 years old.
Before the trip around the world, she had over 80 officially registered flight hours and hundreds of unaccounted for, which she flew with her father, writes The New York Times.
After graduating from high school and before entering university, Zara took a year off to pursue her lifelong dream of traveling solo around the world.
Before the flight, Zara wrote a letter to the previous record holder, 34-year-old Weisz, asking if she could try to beat her record. The answer was an enthusiastic "Yes!".
"I told her I was so proud of her for being so brave – and so young – to do this," Weiss said. "Records are meant to be broken."
To pay the costs, Zara sold her car and found sponsors. One of them provided her with an aircraft – an ultralight Shark UL. Especially for a round-the-world trip, it was equipped with additional radio and satellite communications, and an additional fuel tank was installed in place of the second seat.
For the entire five-month flight, the plane used up less fuel than a passenger airliner in ten minutes. But to offset her carbon footprint, she donated 600 euros to tree planting projects.
When planning the trip, Zara planned 60 stops and 25 days of rest. However, she returned later than she was going to: initially, the return was supposed to be November 3rd. I had to deviate from the schedule mainly because of the weather, because during the trip the girl used the rules of visual flights – when the pilot must see where he is flying.
One of the most difficult flights was the stage at the beginning of the journey from Iceland to Greenland, when Zara had to bypass fog and thunderclouds, and radio contact with the team was lost. The flight lasted eight and a half hours.
Each stage of the flight lasted an average of about five hours, no one accompanied her on the plane. To calm down during particularly difficult flights over water, the girl listened to podcasts. On the ground, Zara had a dedicated team to deal with the logistics and landing rights, while her father was in touch and advised when needed.
In Zara's own words, her itinerary was "ridiculously twisty," partly because a two-seat plane can't fly long distances over oceans, and also because she loves the idea of ​​a grand adventure. "I could cut it, but I think that would be pretty boring," she admitted.
In the future, Zara also dreams of flying into space. "Being an astronaut would be really amazing," she says.
"My goal is to inspire girls and young women to do what they might be interested in, even if these areas are considered traditionally masculine," says Zara. She made use of stops throughout her travels, including meetings with politicians, diplomats, scientists, youth groups and schoolchildren.
On my own website and on social media, she also talks about the first female cosmonaut, Valentina Tereshkova, and other female pilots who inspire her. Zara is raising donations for two charities: Girls Who Code, which aims to increase the number of women in computer science, and Dreams Soar, which helps women educate and build careers in STEM fields.
News from Korrespondent.net in Telegram. Subscribe to our channel
.