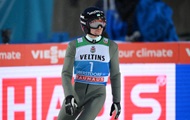 The athlete will not compete in regular ski jumping, but will be able to take part in the big hill jumping competition.
On Saturday, February 5, as part of the Beijing 2022 Olympic Games, the qualification for ski jumping (regular ski jumping) starts.
From Ukraine, three athletes qualified in this discipline – Vitaliy Kalinichenko, Yevhen Marusyak and Anton Korchuk, however, only two are present in the starting list of qualifications – Marusyak and Korchuk.
On the eve of Kalinichenko and Marusyak missed two official practices, however, only Kalinichenko was not included in the Ukrainian national team's bid for qualification.
According to Public.Sports, the Ukrainian athlete has not yet arrived in China to participate in the Olympics.
He will arrive only on Sunday, February 6, which means he will miss the competition on a regular springboard. At the same time, Kalinichenko will still be able to perform at the Games in high jumping, the qualification of which will begin on Friday, February 11th.
However, to participate in the competition, he will need to pass a negative test for coronavirus after arriving in Beijing.
As for Korchuk and Marusyak, they will perform in qualifying under the first and fourth numbers, respectively. Qualification starts on February 5 at 07:15 Kyiv time.
Recall that on ISPORT you can find schedule of the first day of the 2022 Olympics.
.