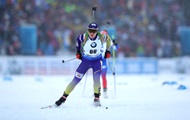 The Ukrainian women's team has already lost two biathletes due to the coronavirus.
The 2022 Olympic Games in Beijing began with not the most pleasant news for the Ukrainian women's biathlon team – even before the start of the first race, experienced Elena Bilosiuk passed a positive test for coronavirus.
Then the situation worsened – the day before it became known that COVID-19 was detected in another of our biathletes, Daria Blashko. As a result, because of this, only three Ukrainians will compete in the individual race in Beijing – Valentina Semerenko, Yulia Dzhima and Irina Petrenko.
According to NOC of Ukraine, on Sunday, February 6, biathlete Anastasia Merkushina urgently arrived at the location of the national team. Initially, she was on the substitute list and, given the situation, the coaching staff brought her to the Olympics.
The coaches will decide which races Merkushin will take part in.
At the moment, only one race has taken place in the Olympic program – the mixed relay. Ukraine became the 13th in this race.
Recall that ISPORT is available schedule of all biathlon races at the Olympic Games 2022.
.