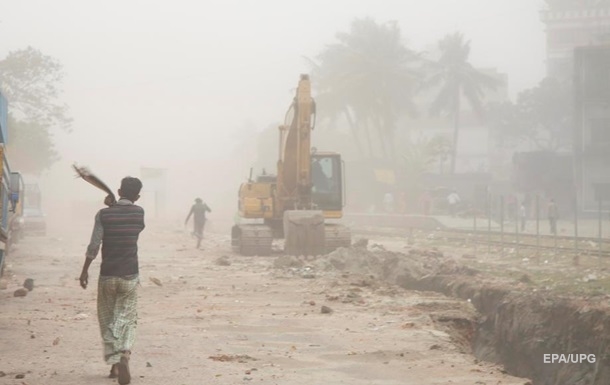 Environmental pollution has killed more people than COVID-19 – UN
The number of deaths in the world from diseases associated with environmental pollution is more than 15 times higher than the number of violent deaths.
Globally, at least 9 million premature deaths are caused by environmental pollution – twice as many as in the first year and a half of the COVID-19 pandemic. UN Special Rapporteur David Boyd wrote about this in a report. informs The Hill on Wednesday, February 16th.
The report states that the number of deaths worldwide from diseases associated with environmental pollution is more than 15 times higher than the number of deaths from violence.
The single biggest environmental driver of premature death is air pollution, which claims about 7 million lives each year.
At the same time, pollution-related deaths overwhelmingly occur in low- and middle-income countries, which account for more than 90% of these deaths.
In addition, workers in factories and similar places are also at particular risk, with more than 750,000 people dying each year from exposure to substances such as car exhaust and asbestos. Lead exposure is still associated with approximately 1 million deaths per year, while additional hazards arise from per- and polyfluoroalkyl substances (PFAS), the so-called "timeless chemicals".
According to the report, the effects of pollution go beyond the impact on the health of individuals. They are also interlinked with other environmental crises such as climate change and biodiversity loss.
"The chemical industry amplifies the climate catastrophe by consuming more than 10% of the world's fossil fuels and releasing approximately 3.3 billion tons of greenhouse gases annually. Global warming is contributing to the release and re-mobilization of hazardous pollutants as a result of melting glaciers and melting permafrost," the statement said. report.
Finally, pollution and toxic substances are one of the top five drivers of catastrophic loss of biodiversity, with particularly negative impacts on pollinators, insects, freshwater and marine ecosystems, and bird populations.
Recall that climate change will affect five regions of Ukraine. The Ministry of Ecology has calculated which Ukrainian regions will suffer the greatest losses due to global warming.

Abandoned mines. Donbas is threatened with an ecocatastrophe

News from Korrespondent.net in Telegram. Subscribe to our channel