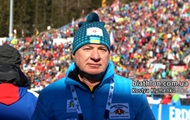 The functionary analyzed the performances of Ukrainian biathletes at the Olympic Games in Beijing.
President of the Biathlon Federation of Ukraine Volodymyr Brinzak spoke about the performance of the men's and women's teams at the 2022 Olympic Games.
According to an authoritative functionary, the biathletes could not adapt to the conditions in Beijing.
"I would not like to evaluate the results, because now everyone has emotions – both me and the fans. When emotions go off scale, you can mistakenly put the wrong like. We need to objectively figure it out. If you look at the Olympics, what we could count on is in individual races only Jim and Podruchny, and in relay races we could compete for medals.
We had chances, the team team was functionally ready very well, but it didn't work out with shooting, they didn't adapt to these difficult conditions – high mountains, windy, frosty. There were no such trainings during the season. We talked with the coaches, we were let down by the fact that we had no training in such difficult conditions, there was no opportunity. The boys and girls didn't manage to get used to them."
Read also: "There are only the first three places, and the rest are participants," Pidruchny summed up the results of the 2022 Olympics
Brynzak shared his opinion about the results of Ukrainian girls.
"If you take the women's team, then there are a lot of force majeure. Petrenko and Merkushina had two illnesses in December, they were on antibiotics, with a temperature, the infection was very serious. But we managed to reach some more or less level. We are already silent about Blaschko, who was unable to start, about Elena Belosyuk, who had a temperature for a week before the start and had a very difficult time with the coronavirus. It was very difficult for the women's team."
The functionary appreciated the performance of the men's team.
"We could do better, especially the young Tsymbal and Dudchenko. I thought that they would shoot and perform better, this is their first Olympics, it's emotions and psychology. They didn't manage to show this result, they have yet to come. a shot was not enough to get a medal, sometimes two. You can say that about everyone."
Brynzak also reacted to the fact that Ukraine failed to win medals in biathlon at the Olympics.
"We were not the only ones waiting for medals – they were waiting in France, Belarus, Germany, Italy, Sweden. We are not the strongest biathlon nation in the world, we fought as best we could. I am not ashamed of our Ukrainian biathlon. We know how to move on. I think , a slightly belated generational change is one of the objective reasons. This should all be corrected, and there will be new stars in our team," Brynzak said in an interview with UA: Pershy.
Available on ISPORT schedule and race results in the current biathlon season.