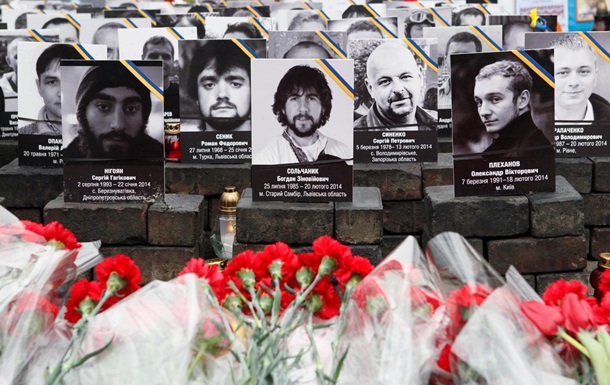 Photo: Reuters (file photo)
Ukrainians remember the feat of the Heavenly Hundred
It was on this day eight years ago that the most Euromaidan activists died in Kiev – 48 people.

In Kiev, on Maidan Nezalezhnosti, events are held in honor of the Ukrainians who died these days eight years ago during the Revolution of Dignity. This is reported Ukrinform on Sunday, February 20th.
It is indicated that people bring flowers to the portraits and the monument to the fallen heroes on the alley of the Heroes of the Heavenly Hundred.
Along the alley and in the places of executions, near the portraits of heroes, there are flowers and icon lamps. White paper angels are hung on ribbons between the trees on the eve, symbolizing sorrow and reverence.
It is known that from 10:00 to 12:00 a ceremony of memory of the fallen heroes will be held near the Church of the Archangel Michael and the Ukrainian New Martyrs on the alley of the Heroes of the Heavenly Hundred. Later, the installation Bullet Torn Dream will also be presented there.
At 12:00 in the St. Michael's Golden-Domed Cathedral, a memorial service will begin for those who died during the events of the Revolution of Dignity.
From 16:30 to 18:00 on the Maidan, it is planned to hold a Veche Honoring the Memory of the Heroes of the Heavenly Hundred, after which an interfaith memorial service and the traditional inclusion of the light installation Rays of Dignity will take place.
As you know, on February 20 Ukraine celebrates the Day of the Heroes of the Heavenly Hundred. On February 18-21, 2014, the most brutal confrontations between the security forces and participants in the Revolution of Dignity took place in Kiev. On February 20, 2014, the largest number of Euromaidan activists died – 48 people.
On February 17, 2021, the Verkhovna Rada recognized the Revolution of Dignity as one of the key moments of the Ukrainian state and an exponent of the national idea of ​​freedom.
105 Heroes of the Heavenly Hundred were posthumously awarded the title of Hero of Ukraine, and three foreigners – citizen of Belarus Mikhail Zhiznevsky and citizens of Georgia Zurab Khurtsia and David Kipiani – were posthumously awarded the Order of Heroes of the Heavenly Hundred.
Recall that the advocacy advisory group published a film with a complete reconstruction of the dispersal of the Maidan on November 30, 2013. The documentary was called "Dispersal of the Maidan". This is a second-by-second reconstruction of the events of the dispersal of the protesters.

News from Perild.com in Telegram. Subscribe to our channel