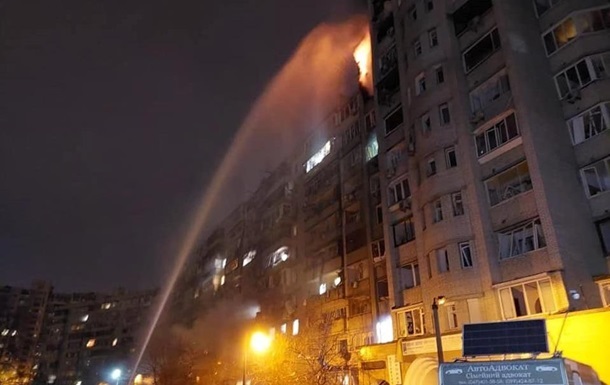 Photo: State Emergency Service
Rocket hitting a residential building in Kiev is one of the facts under investigation
Law enforcement officers are already detaining military personnel of the aggressor country and conducting interrogations. Venediktova spoke about a number of facts.
The prosecutor's office launched an investigation into the fact that an aircraft shell hit a residential building in Kiev, as a result of which a fire broke out. About this on Friday, February 25, reported Prosecutor General Irina Venediktova.
She noted that this incident was qualified as a terrorist attack.
Venidiktova said that an investigation into the sabotage was also launched in Vinnitsa – at about 6 a.m., a drone hit the building of the flight control point of the military airfield in the city of Kalinovka.
"Three people were injured, two of them were military men, one civilian. Qualified as sabotage," wrote Venediktova.
She noted that the tense situation around Kiev.
"The Kiev regional prosecutor's office has already documented 12 facts of sabotage and encroachments on the territorial integrity and inviolability of Ukraine. Urgent investigative actions are being taken to record and collect evidence of the fact of Russian aggression," the prosecutor general said.
She also noted that the Kharkiv Regional Prosecutor's Office is actively working in criminal proceedings on the fact of unleashing an aggressive war by the Russian Federation.
"A complex of urgent investigative actions is being carried out, inspections and seizure of material evidence, if there is a possibility of security. Over the past 24 hours, according to operational data from the regional police, at least seven civilians have died there, including a 14-year-old child and a woman from Chuguev, three people died on ring road, two in Volchansk," wrote Venediktova.
At the same time, she noted that law enforcement officers are already detaining military personnel of the aggressor country.
"Deputy commander of a platoon for technical means of reconnaissance of the 74th motorized rifle brigade of the Russian Federation was detained in the Chernihiv region. In his testimony, he confirmed that he was a regular Russian military man and received an order to attack our state," the report says.
Also, Venediktova said that the day before, the patrol police detained representatives of illegal armed groups in Happiness, Luhansk region, captured. At night, units of the Armed Forces of Ukraine in Kherson during the conduct of hostilities captured two servicemen of the armed forces of the Russian Federation – a company commander and a corporal of paratroopers. They will be investigated by officers of the Security Service of Ukraine.
The Prosecutor General also said that the prosecutor's office continues to coordinate the work of the system.
Recall that last night a rocket fragment hit a multi-storey residential building, a serious fire broke out, there is a threat of destruction of the house.

News from Perild.com in Telegram. Subscribe to our channel