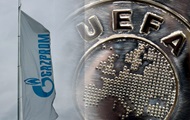 The organization is ready to give up a huge amount due to the military invasion of Ukraine.
The Union of European Football Associations (UEFA) has decided to terminate the sponsorship agreement with Russian Gazprom.
According to the publication The Times, the organization began the process of denunciation of the contract on the evening of Friday, February 25. The reason for this decision was the invasion of the Russian army into the territory of Ukraine.
Note that Gazprom has been a UEFA sponsor since 2012. Last May, the union signed a new three-year agreement with the company for 40 million euros per season.
Thus, by terminating the contract, UEFA will not receive about 100 million euros, but the organization is ready to take this step, given the situation in Ukraine.
Previously it was reported that UEFA postpone 2021/22 Champions League final from Saint Petersburg to Paris.