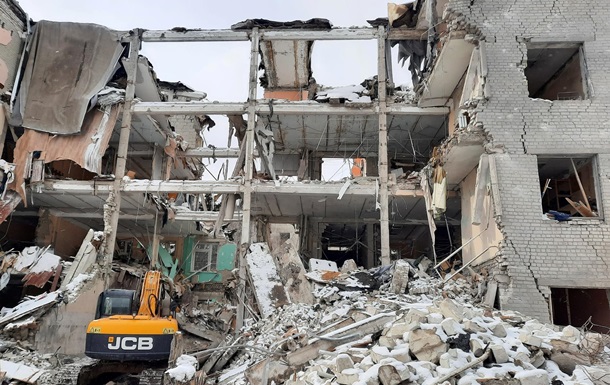 Photo: State Emergency Service
Consequences of shelling in Kharkov
The enemy used multiple launch rocket systems Smerch, including in the center of Kharkov.
Over the past day, Kharkov and its suburbs were subjected to more than 70 enemy shelling, including from the MLRS. This was announced by the head of the regional military administration Oleg Sinegubov on his page in Facebook Thursday, March 10th.
"Over the past 24 hours, the Russian occupying troops inflicted about 74 artillery and mortar shelling, including from multiple rocket launchers in the areas of Alekseevka, Pyatikhatki, Northern Highway, Belogorodskoye Highway, Kholodnaya Gora, Dergachi (a suburb of Kharkov – ed.), Metro station Academician Barabashov, the center of the city of Kharkov," wrote Sinegubov.
According to him, during the night the city was shelled about 29 times, while, according to the information of the Kharkiv Defense Headquarters, no activity of enemy aircraft was observed in the regional center, no bombing was carried out.
At 22:17, the enemy damaged the dome of the Nikolsky shopping center, located in the center of Kharkov, with a heavy salvo fire system Smerch, followed by a collapse inside. Employees of the State Emergency Service of Ukraine worked at the scene.
At 22:19, as a result of the use of the Smerch volley fire system by the enemy, residential buildings along Pushkinskaya Street were damaged.
Sinegubov said that at about 5 am, as a result of enemy shelling of Northern Saltovka, the gas pipeline was damaged. About a third of the city's residents were left without gas.
"30% of the city's residents were left without gas, a gas fire broke out at the site of the shelling, which continues to this day. Rescuers are working hard at the scene," Sinegubov wrote.
At the same time, Sinegubov noted that the Armed Forces of Ukraine are going on a counteroffensive in many directions in the region.
"The Armed Forces of Ukraine are defending Kharkiv, they are launching a counteroffensive in many areas in the region. The enemy is demoralized, exhausted and does not take active offensive actions. Therefore, he resorts to cynical attacks from the air," Sinegubov added.
On the eve it was reported that in Kharkov, four people were killed during an attack on the police department. Rescuers are clearing rubble at the scene. Investigators are inspecting the scene.

News from Perild.com in Telegram. Subscribe to our channel