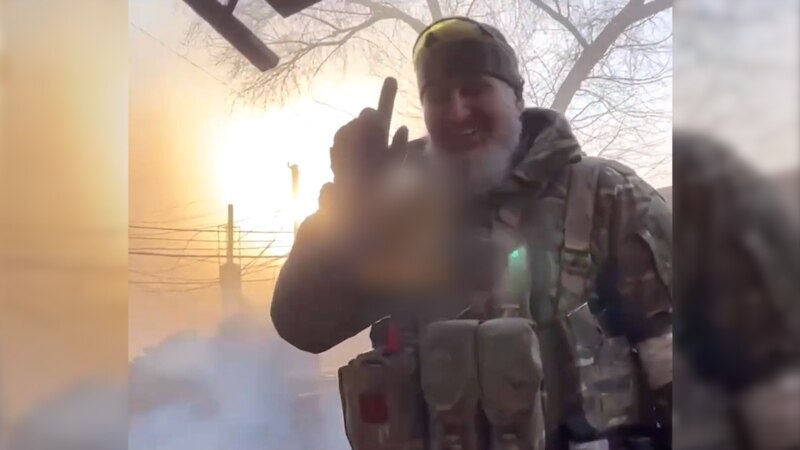 During the fighting in Mariupol, one of the possible organizers of the murder of Russian opposition politician Boris Nemtsov, an officer of the Chechen Interior Ministry, Ruslan Geremeev, was injured. The video, in which the head of Chechnya Ramzan Kadyrov visits the allegedly wounded Geremeev in the hospital, is widely distributed on Telegram channels. In which hospital the footage was filmed is not clear. It is reported that Geremeev's life is not in danger.
Earlier, Ramzan Kadyrov posted a video of Geremeyev and other Chechen fighters allegedly hoisting the Russian flag over an administrative building in Mariupol. Many Ukrainian military officials assume that most of the videos that Kadyrov publishes on the Internet (according to the head of Chechnya, he personally takes part in hostilities in eastern Ukraine) are staged.
Boris Nemtsov was killed in the center of Moscow in February 2015. In July 2017, the Moscow District Military Court found guilty of committing a crime five natives of Chechnya – Zaur Dadaev, brothers Anzor and Shadid Gubashev, Temirlan Eskerkhanov and Khamzat Bakhaev. They received terms of imprisonment from 11 to 20 years. The organizers and customers of the murder have not yet been found. Relatives and colleagues of Nemtsov believe that people from Vladimir Putin's entourage and the head of Chechnya, Ramzan Kadyrov, may be involved in organizing the crime and harboring the perpetrators.
For a long time it was believed that Chechen Interior Ministry officer Ruslan Geremeev, who was suspected by the official investigation of organizing the murder of Nemtsov, disappeared without a trace. They wanted to interrogate him, but they could not, because, according to the Investigative Committee, the door of the house at the place of registration of Geremeev no one opened.
The battles for the Ukrainian Mariupol have been going on since the end of February. The city is under siege. The mayor of Mariupol, Vadim Boychenko, called the actions of the Russian troops "genocide", accusing them of the systematic destruction of residential buildings and the killing of civilians. The Russian government denies this. It is known that before the siege, Ukrainian President Volodymyr Zelensky offered the defenders of Mariupol to leave the city, but they refused, saying that they would fight to the end.