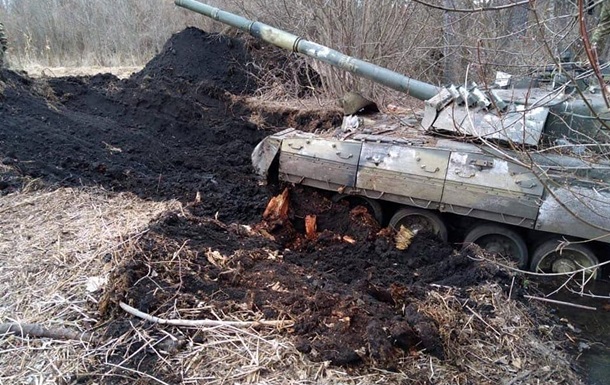 Photo: facebook.com/GeneralStaff.ua
Russian troops did not achieve the goal of the offensive operation
The Russian Federation withdraws separate units of the armed forces from the territory of the Kiev and Chernihiv regions.
The enemy did not achieve the goal of the offensive operation and withdraws individual units from the territory of the Kiev and Chernihiv regions. At the same time, a high threat of strikes against military and civilian infrastructure remains, the report says. summary of the General Staff of the Armed Forces of Ukraine at 12.00 on March 29.
"There is a problem of strengthening and carrying out the rotation of the existing enemy grouping.
So, only in the Pacific Fleet of the Armed Forces of the Russian Federation, recruitment units, due to the refusal of personnel to participate in the so-called "special operation", are not able to complete even one battalion-tactical group," the Ukrainian military leadership said.
In the Volyn direction, the grouping of the armed forces of the Republic of Belarus provides cover for its state border and conducts demonstration actions.
In the Polesie direction, the enemy is limited to shelling with artillery, regrouping existing units and partially withdrawing them to the territory of Belarus.
In the Severshchina, Russian troops continue to blockade Chernihiv, shelling military and civilian facilities. In the direction of Brovary, the enemy does not take active actions.
In the Slobozhansky direction, the Russian army, with the help of aviation and artillery, is attacking Kharkov and Barvenkovo, and is also trying to capture the city of Izyum.
"Fighting continues in the area of ​​​​the settlements of Kamyanka, Sukhaya Kamyanka, Tikhotskoye. The enemy has increased the existing grouping by introducing separate units from the 1st Tank Army. It was in the battles near Kharkov that the 200th separate motorized rifle brigade of the enemy lost two battalion tactical groups and personally the commander of the brigade of Colonel Denis Kurilo. The losses of one 200th brigade amounted to more than 1,500 servicemen," the General Staff emphasized.
In the Donetsk direction, the enemy increased its fire influence and launched air strikes on Voevodovka, Rubizhne, Lisichansk, Kremennaya, Zolotoy-4, Popasnaya, Toretsk, and Novgorodsky.
The main efforts of the enemy are concentrated on taking control of Popasna and Mariupol.
In Berdyansk, Russian invaders are trying to restore port infrastructure.
In the Yuzhnobuzhsk direction, the enemy, under the cover of artillery fire, is carrying out measures to restore combat capability, replenish stocks of ammunition and fuel.
The grouping of defense forces continues to conduct a defense operation in the Eastern, South-Eastern and North-Eastern directions. Restrains the enemy in all directions, and in some directions – displaces.