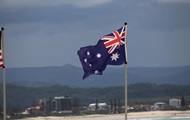 The Australian government stands in solidarity with Ukraine and is working with partners to put the maximum cost on Russia.
Australia introduces additional duties of 35% on all goods imported from Russia and Belarus. This is stated in Ppress release on the website of the government of the country, published on March 31.
It is noted that the Australian authorities are taking further action to increase the economic costs for Russia after its illegal invasion of Ukraine with the support of Belarus, applying additional duties of 35% on all imports from Russia and Belarus.
Official notification of the abolition of the right to the most favored nation tariff treatment and the application of additional duties will be published on April 1.
The decision itself will come into force on April 25, 2022 and will be applied in addition to the general duty rates that are currently in effect.
"We continue to work with partners to impose maximum costs on Russia through targeted sanctions against individuals and legal entities, a ban on energy carriers, oil and gas products from Russia, as well as a ban on the export of alumina and aluminum ores (including bauxite) to Russia" , the Australian government said.
The list of anti-Russian measures includes more than 500 individuals and entities and is the largest ever imposed by the Australian authorities against a single country.

News from Perild.com in Telegram. Subscribe to our channel