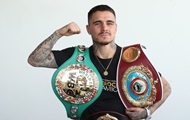 The Australian spoke about the organization of his next fight.
The undisputed lightweight champion of the world, George Kambosos, has shared details about choosing his next opponent.
According to the Australian, he considered two candidates for the fight – Vasily Lomachenko and Devin Haney.
"Lomachenko and Haney together were my goal. I always had this attitude that it would be Devin Haney or Lomachenko. Business is business, nothing personal. I didn't prefer anyone over the other. could."
Read also: Kambosos: I only asked for two names for the next fight – Lomachenko and Haney
Kambosos admitted that most of all he wanted to be in the ring with a Ukrainian athlete.
"The fight with Lomachenko made more sense, given the ESPN deal, the Lou DiBella deal and his requests. I worked hard for ten years, chose the hard way, traveling around the world. I made little, did not make any, lost money, to climb to the top of boxing."
The Australian also noted the importance of his victory over Teofimo Lopez for his future.
"I beat the best fighter in the division, took the titles in his hometown, so I deserve to voice my requests and do it my way," Kambosos said in an interview with the YouTube channel FightHype.
Recall that in the next fight Kambosos will fight with Haney. Boxer duel will take place in June.