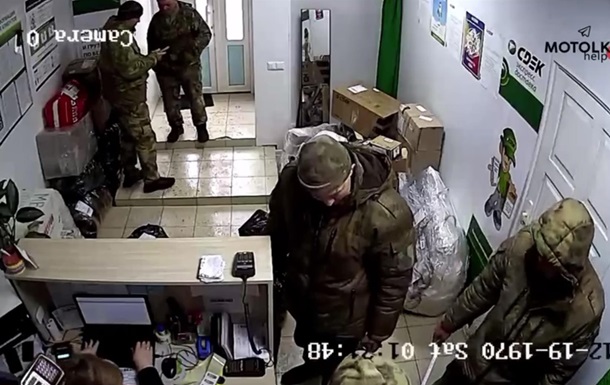 Photo: Screenshot
Occupiers send property of Ukrainians home
A whole specialized bazaar of Russian occupiers has been organized in Belarusian Narovla, where they sell the property of robbed Ukrainians.
Russian servicemen who robbed the houses of Ukrainians as part of a "special operation" are storming courier delivery services in Belarus to send someone else's property home. This was reported by the Telegram channel Belarusian Guyun on Saturday, April 2nd.
In particular, a video was made public of how the occupiers are in the department of the Russian express delivery service SDEK in the Belarusian Mozyr and arrange the delivery of things.
It is also reported that in the city of Khoiniki, Russian soldiers went to the post office and asked about the possibility of sending international parcels. In particular, it was about mobile phones and other things stolen from Ukrainians' houses that were destroyed.
In turn, the Main Intelligence Directorate of the Ministry of Defense of Ukraine discovered a whole specialized bazaar of Russian invaders in the Belarusian Narovlya, where they sell the property of robbed Ukrainians.
"In the "assortment" of the looting bazaar: washing machines and dishwashers, refrigerators, precious jewelry, cars, bicycles, motorcycles, dishes, carpets, works of art, children's toys, cosmetics. That is, everything that the Russians got by looting and robbing the civilian population in Ukraine," reads message.
In addition, the Russian invaders are trying to sell the stolen dollars and euros. Belarusians, however, most often refuse to buy foreign currency and are advised to apply to financial institutions. Marauders exclude this option, referring to the prohibition of the command.
The supply of looting "goods" is put on "industrial rails". From Buryn (Sumy region) a whole convoy of trucks with stolen goods is moving. In Mozyr, Belarus, property is unloaded from Russian military KamAZ trucks and sent to the Russian Federation by express delivery service.
Previously, a full glove of Ukrainian coins was found in a Russian armored personnel carrier. The Russian military is emptying the cash registers of Ukrainian stores, taking even a trifle from retail outlets.

Chicken Liberators. Looting of the Russian army in Ukraine

News from Perild.com in Telegram. Subscribe to our channel