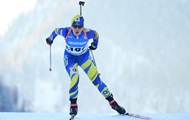 The athlete believes that the French biathletes do not understand the reality of the war.
Criticism of the French ex-biathletes Martin and Simon Fourcade continues.
Following the captain of the Ukrainian men's biathlon team Dmitry Pidruchny on the social network Instagram Ukrainian biathlete Anastasia Merkushina turned to the Fourcade brothers.
"Dear Martin and Simon Fourcade, I am very upset after reading your interview. I think you really do not understand the reality of the war between Ukraine and Russia.
This is not a modern war where tanks fight tanks. And not even the Second World War, when ammunition was at a lower level than today. The biggest danger of this war is that Russia violates all international rules.
It invades an independent country and uses phosphorus bombs, shoots at a nuclear plant, and so on. And the world can't do anything. There are no more guarantees that international rules will continue to be respected."
Read also: Pidruchny responded to Fourcade Jr.'s comment with three arguments
"If you think that ordinary Russians are not involved in this, you are mistaken. Already 18,000 Russian soldiers have died on our soil, aren't they Russians? Why did they come to kill us? Why do athletes use the letter Z on their uniforms? Why don't they ask stop all this?
They had the option to start the competition without their blood flag, but they made their choice. They chose their government. Don't say they are fooled. Many of them have relatives in Ukraine, but they believe in Great Russia and do not want to see the truth.
If you still want to be a Human, then wake up your family at 4 o'clock in the morning, go to the bomb shelter, stay there until 11, and you will feel our life here.
Why do Russians deserve a normal life, while Ukrainian children have to die? (thank God the photo is not mine)," wrote Merkushina.
Recall that after the start of the war, Anastasia Merkushina joined the ranks State Border Service of Ukraine.