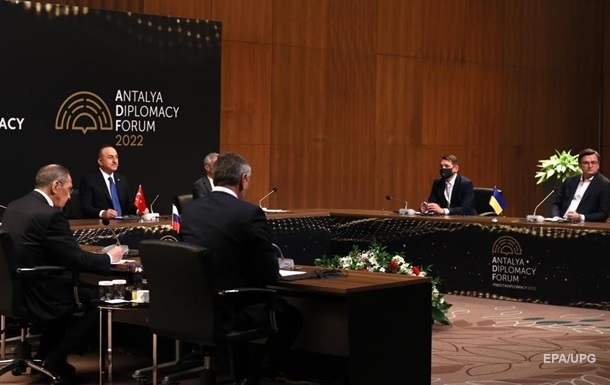 Meeting of Kuleba and Lavrov in Istanbul on March 10
Success in negotiations with Russia depends on the situation on the battlefield and the impact of sanctions, the minister said.
Dialogue with the Russians must continue in order to prevent new "Buchi", said Foreign Minister Dmitry Kuleba at a press conference after a meeting of NATO foreign ministers in Brussels on Thursday, April 7.
"You are asking the right question: how is it to talk to the Russians after all that has happened. I have only one question for the Russians: who are they? to the women and girls whom they rape and kill, neither to the civilian population, nor to the elderly, even to animals and domestic animals. They kill domestic animals. According to Bucha, I don't understand: who are they, who are these people. Asking myself this question, I also understand that in order to prevent other Buches, we must speak and see how we can end this war," he said.
Kuleba noted that the positions of the delegations in the negotiations will be determined by the success of the respective armies on the battlefield and the impact of sanctions.
"These are the two main criteria that make our or their position stronger in the negotiations. And of course, we are fully focused on ensuring that we are stronger and win in the end," the Foreign Minister stressed.
Kuleba also said that Russian Foreign Minister Sergei Lavrov is an accomplice in war crimes in Ukraine.
"Minister Lavrov is part of President Putin's system. The fact that he justifies the bombing of the hospital in Mariupol and the war crimes committed in Bucha and other cities and villages of Ukraine and calls them fake makes him an accomplice to these crimes. But I am ready to meet because he official, and if this is a matter of peace in Ukraine and an end to deaths, then I am ready to meet with anyone," the minister said.
He noted that every comment by Lavrov is aimed at disrupting the negotiations, at blocking them, and not at continuing.
"But I already met him once in Antalya. I don't have any special feelings towards him that would prevent me from meeting him again, if necessary to end the war in Ukraine," Kuleba stressed.

News from Perild.com in Telegram. Subscribe to our channel