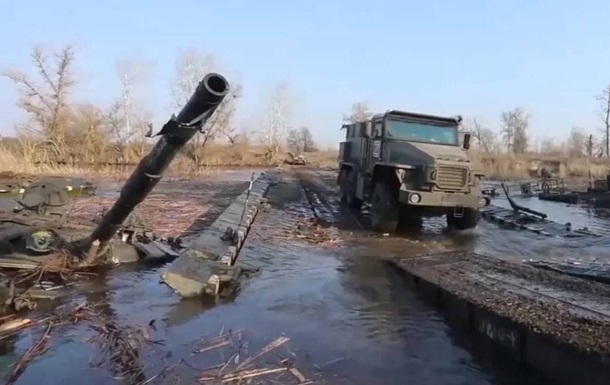 Photo: facebook.com/GeneralStaff.ua
Pontoon bridge erected by Russians in Kharkiv region
Part of the Russian troops continue to attack in the Donbass, new forces continue to be transferred to their aid.
Russian troops continue to transfer forces to the Donbass, according to the morning summary General Staff on Saturday, April 9th.
"The invaders continue to prepare for an offensive in the east of our state in order to establish full control over the territories of Donetsk and Lugansk regions… Over the past day, seven enemy attacks have been repulsed, nine tanks, seven armored units and five vehicles of the enemy have been destroyed," the statement reads. message.
According to available information, in order to regroup troops, the enemy is moving units from the 35th combined-arms army of the Eastern Military District and the 76th airborne assault division of the airborne troops of the armed forces of the Russian Federation in the Belgorod and Voronezh regions.
In the Seversk direction, the enemy is completing the regrouping of forces and restoring the combat capability of the units of the Central Military District in the Bryansk and Kursk regions, as well as the movement of individual units from the 41st combined arms army and the 90th tank division to the territory of the Donetsk and Lugansk regions.
In the Slobozhansky direction, the enemy continues intensive shelling and partial blockade of the city of Kharkov. Strengthens the conduct of electronic intelligence. On the territory of the Belgorod region, the invaders set up field camps for units displaced from other operational areas.
In the Izyum direction, the enemy unsuccessfully launched an offensive in the direction of the settlements of Brazhkovka and Suligovka.
In the Donetsk direction, the enemy continues assault operations. The main efforts are being concentrated on taking control of the settlements of Rubizhne, Nizhne, Popasnaya and Novobakhmutovka and establishing full control over the city of Mariupol.
In the Yuzhnobuzhsky direction, the enemy stepped up reconnaissance. Conducted artillery shelling of the settlements of Maryanskoye, Novovorontsovka, Novogrigorovka and Shevchenkovo.
It continues to deliver missile strikes on the settlements of the Odessa region from the territory of the Crimean peninsula.
There are more than 40 Russian battalion tactical groups in or near the Donbas region, according to the Pentagon.

News from Perild.com in Telegram. Subscribe to our channel