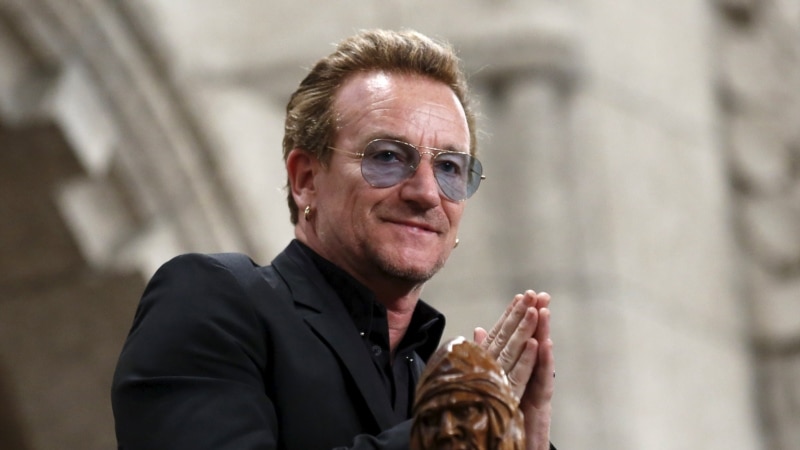 In Warsaw today there will be a fundraising event in support of Ukrainian refugees and internally displaced persons fleeing hostilities. This is the culmination of the "Stand Up For Ukraine" campaign, which involves numerous Western politicians, public figures, cultural figures and ordinary citizens. The campaign began on March 25, 2022 at the initiative of the European Commission and the Government of Canada, together with the international human rights organization Global Citizen.
The event in Warsaw will be attended by European Commission President Ursula von der Leyen, who visited Ukraine the day before, as well as Canadian Prime Minister Justin Trudeau and Polish President Andrzej Duda. In anticipation of it, many world-famous performers, show business representatives, athletes and human rights activists recorded videos in support of the campaign.
U2 recorded the song Walk On Ukraine as part of it." The brave people of Ukraine are fighting for their freedom – and for ours too – in the face of unspeakable violence and unjust invasion. More than four million people, mostly women and children, were forced to flee, and because it is almost the population of Ireland. World leaders must stand up and support the Ukrainians now – those who are fighting and those who have been forced to leave their homes and their lands, "the group said in a statement.
John Lennon's son Julian Lennon recorded for акции Stand Up For Ukraine his father's song Imagine. "The war in Ukraine is an unimaginable tragedy… As a person and as an artist, I felt compelled to respond in the most significant way possible. So, today I publicly performed my dad's song IMAGINE for the first time," he said.
A song in support of Ukraine was also recorded by one of the most famous young pop stars, Billy Eilish.
Alanis Morissette, Madonna, Ozzy Osbourne, Celine Dion, Elton John, Radiohead, Red Hot Chili Peppers and other artists agreed to take part in the action.
Von der Leyen is traveling to Warsaw from Ukraine, where the day before she visited the city of Bucha and saw with her own eyes the exhumation of the bodies of people who died during the Russian occupation. According to her, she is convinced that the Russian military committed war crimes in Ukraine, including indiscriminate killings of civilians and attacks on residential buildings. The head of the European Commission stressed that the exact qualification of the actions of the Russian military should be given by lawyers based on the results of the investigation.
EU representatives, following the United States, say that Russia is also responsible for the missile attack on Kramatorsk, in which more than 50 civilians were killed. The Russian Defense Ministry claims that the rocket was Ukrainian.