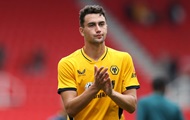 Wolverhampton football player reacted to the invasion of the Russian Federation.
Wolverhampton defender Max Kilman supported Ukraine in the war against the Russian army.
The footballer, who has Ukrainian citizenship, published a post on Instagram in which he wrote: "I am one of many who are with Ukraine."
Read also: De Bruyne supported a young Ukrainian fan injured in Russian shelling
In addition, Kilman posted a video in which he said: "We support and are together with Ukraine."
Recall that Kilman received Ukrainian citizenship, but he is forbidden to play for the Ukrainian national team, because he previously played for the English national futsal team.