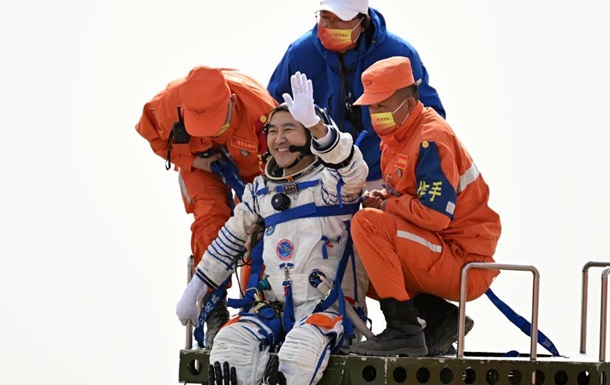 Photo: Xinhua
Zhai Zhigang, Ye Guangfu and female taikonaut Wang Yaping returned to Earth
The longest manned mission in the history of Chinese space exploration has successfully completed.
China's Shenzhou-13 spacecraft with a crew of three has landed successfully after a nine-hour flight from the Tiangong National Orbital Station. This became known on Saturday, April 16.
As follows from the broadcast of the Chinese Global Television Network (CGTN), the descent vehicle landed at the Dongfeng test site in the Inner Mongolia Autonomous Region in northern China at 03:57 Kyiv time.
The ship's crew included Zhai Zhigang, Ye Guangfu, and female taikonaut Wang Yaping. They arrived at Tiangong station on October 16, 2021 and stayed at the station for six months. This is the longest manned mission in Chinese space history.
The next crew will arrive at the station in May this year on the Shenzhou-14 ship and will also stay there for half a year. Food and equipment will be delivered by the Tianzhou-4 cargo spacecraft a few days before their arrival.
China should complete the construction of a full-fledged orbital station in 2022. Six more space launches are planned for the base module and two laboratory modules, Wentian and Mentian, are to be docked.
The total weight of the Tiangong station, which will be located at an altitude of 400 km, after its completion will be about 90 tons. It will be five times smaller than the International Space Station and will be capable of accommodating three crew members on a full-time basis (and up to six when changing crews). The life of the space station is about 10 years.
Recall that in 2021, China made a record number of space launches – 55. The second place was taken by the United States – 51 launches.
It also became known that China is preparing a modified rocket to launch into space. The first stage of the Long March 8 launch vehicle will be reusable thanks to thrust control technology.

News from Perild.com in Telegram. Subscribe to our channel