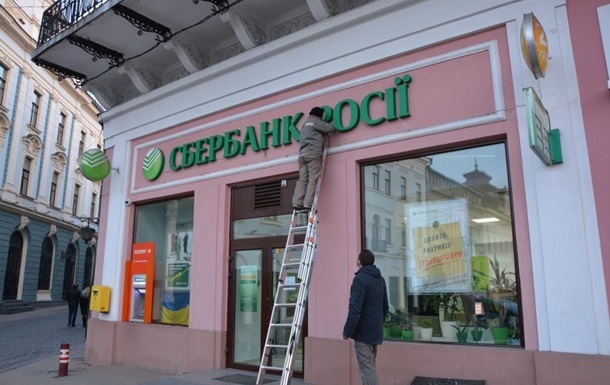 Photo: Chernivtsi City Council
Almost a billion dollars worth of Russian bank assets remain in Ukraine
The decision to seize the assets of two Russian banks in Ukraine must be approved by the National Security and Defense Council and signed by the president.
The Cabinet of Ministers approved the proposal of the National Bank on the nationalization of UAH 26 billion of assets withdrawn from the market of Russian banks. The decision must be approved by the National Security and Defense Council and the president. This was announced by the Director of the Deposit Guarantee Fund Svetlana Rekrut in interview economic truth.
Thus, the state will expropriate the assets of such banks as MR Bank (a subsidiary of Sberbank) and Prominvestbank. In particular, funds on the NBU savings account, correspondent accounts of banks, loans from state-owned companies and liabilities of the parent structures of these banks.
In addition, owned government bonds will be confiscated, which means that the state, represented by the Ministry of Finance, will no longer owe Russian banks anything. Certificates of deposit will also be expropriated, that is, the NBU will not return funds to them.
The corporate rights of these banks will also be withdrawn to allow them to be entitled to the surplus assets that will remain after the nationalization.
In particular, MR Bank has UAH 3 billion in its savings account, which is enough to meet the needs of depositors up to UAH 200,000, and the next line of creditors and individuals whose deposits exceed this amount.
"The portfolio remained within 20 billion, there are also other assets, including real estate. This is more than enough to cover all queues of creditors, with the exception of related persons. And we hope that we will have a surplus, which we will also return to the state," Recruit said.
Also, the state will take away from banks loans issued to Ukrainian state-owned companies. These are four state-owned enterprises of strategic importance. The amount of this debt to two banks without interest is about 10 billion hryvnia.
Recall that the NBU revoked licenses from the subsidiaries of Russian banks on the second day of the Russian invasion on February 25.

News from Perild.com in Telegram. Subscribe to our channel