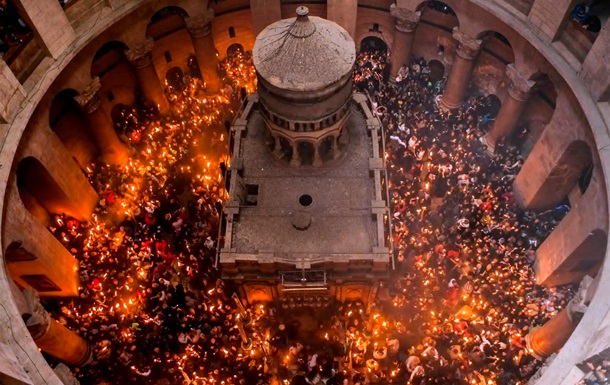 Photo: kp.ua
Watch the online broadcast of the Holy Fire today April 23, 2022
The Miracle of the Descent of the Holy Fire takes place annually in Jerusalem on the last Saturday before Easter. Watch the online broadcast of the Holy Fire on Perild.com
Christians of all denominations annually on the eve of the Easter holiday expect the blessing of the Lord – the Descent of the Holy Fire. In 2022, Easter falls on April 24, respectively, the miracle of the Convergence will take place on Saturday, April 23 in the Church of the Holy Sepulcher at 13:00 Kyiv time.

Online broadcast of the Holy Fire 2022
Mystery of the Descent of the Holy Fire
There has not yet been a single case that the Holy Fire did not descend to Earth. The ceremony preceding this event is always carried out in the same way.
On Saturday morning at about ten o'clock in all buildings belonging to the complex of the Temple of the Lord, all sources of open fire are extinguished. Edicule, where the fire will soon come down, is publicly "sealed".
Closer to one in the afternoon, the procession of the Holy Fire, called the litany, begins. The patriarch always follows at its end. The procession enters the temple and circles the Kuvuklia three times.
The patriarch stops in front of the entrance to the chapel, takes off all his clothes except for a long chiton, after which the police search the clergyman. This is necessary in order to exclude the possibility of bringing a source of fire into the cuvuklia.
Before the patriarch is left alone to pray in the chapel, an icon lamp and 33 candles are brought there, symbolizing the earthly age of Christ. The clergyman prays on his knees in the Kuvuklia until the Holy Fire descends. This takes from several minutes to several hours. In the Temple of the Lord and near it, hundreds of thousands of believers are waiting for the appearance of Light.
After the Descent from the main lamp, other candles and lamps are lit, some of which are delivered by plane to other countries.
Historical and cultural information
The Church of the Holy Sepulcher was built around a cave in the rock, where, according to the Bible, Jesus Christ was buried after the crucifixion. The building was founded in the 4th century by order of Emperor Constantine. Before the creation of the temple, this place was outside the city.
A little later, the Kuvuklia of the Church of the Holy Sepulcher was built over the cave of the Sepulcher. Literally, the meaning of the cuvuklia is translated as "bedroom". This is a six by eight meter chapel with a dome.
It was created from yellow-pink marble and is located in the very center of the Rotunda of the Church of the Holy Sepulcher. The first Kuvuklia was erected by Emperor Constantine in 325-335, but it was destroyed by Muslim troops in 1009. The modern building was designed by the Greek architect Nikolai Komin in 1809-1810. After that, she only underwent restoration.