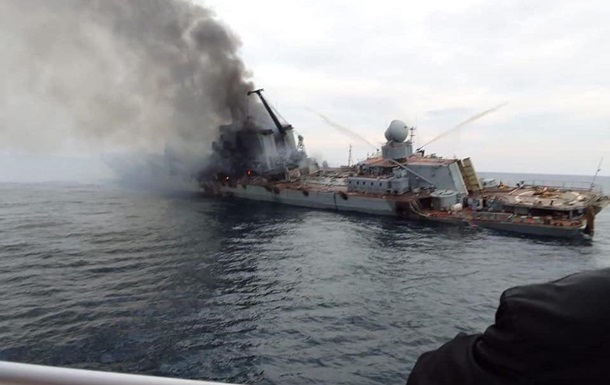 Photo: twitter.com/Osinttechnical
Russian cruiser Moskva destroyed by Ukrainian missiles Neptune
The exact location was discovered by satellite radar based on an analysis of marine fuel and oil pollution.
Satellite images showed the exact location of the sinking of the flagship of the Black Sea Fleet of the Russian Federation, the cruiser Moskva. This was written by the adviser to the head of the Ministry of Internal Affairs Anton Gerashchenko on April 24 in Telegram, citing sources.
"According to the exclusive information of our source, in the image taken by a radar satellite of one of the NATO countries, you see a real place where an object of the cultural heritage of Ukraine rests, evidence of the victories of our engineers and military – the cruiser Moscow," Gerashchenko wrote.
Lost on board. What happened to the crew of Moscow
The exact location was located by satellite radar based on an analysis of sea pollution by surfactants – fuels and oils that cover the surface of the sea above the crash site.
The space radar even makes it possible to see the silhouette of the Moskva cruiser, buried forever at a depth of 40-45 meters, according to the message of the adviser to the Minister of Internal Affairs of Ukraine.
Eight days later, the Russian Defense Ministry said that "as a result of a fire" on the cruiser Moskva, one serviceman was killed, and 27 more people were missing.

News from Perild.com in Telegram. Subscribe to our channel