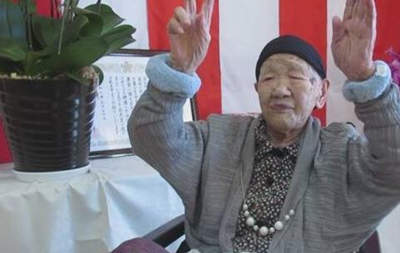 Photo: Frame from video
Kane Tanake
The Japanese considered the present time to be the happiest moment of her life. She had no secrets to longevity.
The world's oldest woman, Guinness World Record holder Kane Tanaka, has died in Japan. Her death became known on April 25, the TV channel reports. NHK.
The woman lived 119 years. Since 2005, she has lived in a nursing home in Fukuoka Prefecture.
Tanaka worked as the manager of a noodle and rice cake shop. One hundred years ago, in 1922, she married Hideo Tanaka and had four children and adopted a fifth.
In the 1970s, Kane retired and began to travel around America, studying mathematics and doing calligraphy.
In the last years of her life, the Japanese woman did not complain about her health, easily solved a mathematical equation, played board games, ate chocolate and drink soda.
Recall that earlier in Spain, at the age of 112, the oldest man in the world, Saturnino de la Fuente Garcia, passed away.

World's oldest woman dies in Japan

News from Perild.com in Telegram. Subscribe to our channel