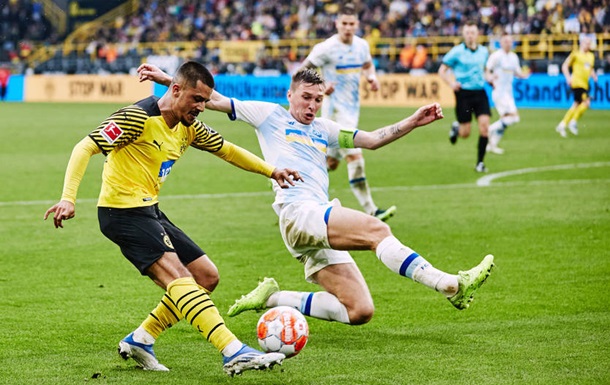 Photo: Getty Images
Borussia did not resist at home in front of Dynamo Kyiv
The Kyiv club held another match of its charity tour in favor of refugees from Russian aggression.
Dynamo Kiev won another victory in a charity tour of European football cities. This time, Borussia Dortmund could not resist Mircea Lucescu's wards. The teams put on a terrific show at Signal Iduna Park, with plenty of goals and missed penalties.
As a result, the victory remained with the people of Kiev 3:2. As shown on the scoreboard during the fight, and then reported press service of Dynamothanks to this fight, it was possible to collect 400 thousand euros, which were received during the television broadcast.
The next charity match of the "Match for Peace! Stop the War!" Kiev will play tomorrow, April 28, against teammates from Zagreb. Two Dynamo teams will start the match in Croatia at 20:00 Kyiv time.
Friendly match. Dortmund
Borussia Dortmund – Dynamo 2:3
Goals: Bynow-Gittens, 4, Rote, 65 – Buyalsky, 9, Vanat, 11, 35
Dynamo: Bushchan (Nescheret, 74) – Dubinchak (Kravchenko, 46), Popov, Zabarny (Sirota, 66), Karavaev (Shepelev, 66) – Shaparenko, Sidorchuk (Andrievsky, 66), Buyalsky (Garmash, 76) – Antyukh Vivcharenko, 46), Dovbik (Kulach, 76), Vanat
Borussia D: Hitz (Unbehuan 46) – Scholz (Rote 46), Pongracic, Akanji (Aussi 30, Zagadu 60), Semich (Passlack 46) – Taz (Gurpuz 46), Can (Guerreiro 60) , Ferai (Papadopoulos, 46) – Royce (Fink, 46), Haaland (Mukoko, 30), Bynow-Gittens (Reinier, 46)
Missed penalties: Shaparenko, 17 – Reinier, 54.

News from Perild.com in Telegram. Subscribe to our channel