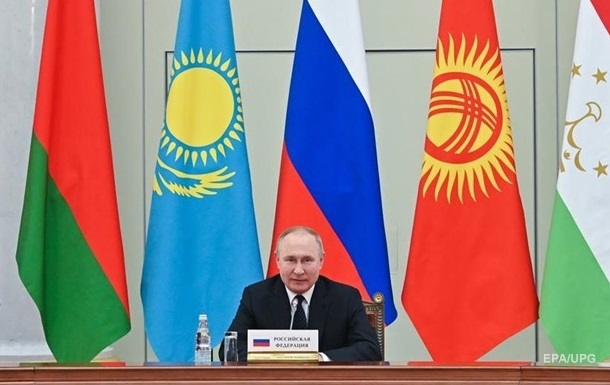 CSTO countries do not support Russian President Vladimir Putin
CSTO members may consider the possibility of a limited deployment of national contingents on the territory of the Russian Federation or Belarus after "an official statement about Ukraine's attack on their territory."
The member countries of the Collective Security Treaty Organization (CSTO) do not express a desire to participate in the war unleashed by Russia against Ukraine. About it informs The Main Intelligence Directorate of the Ministry of Defense of Ukraine on Wednesday, April 27.
"Despite the persistence of the Russian Federation, the CSTO members do not want to make a decision to conduct peacekeeping operations outside their countries. Including on the territory of the so-called "DPR" and "LPR," the report says.
At the same time, it is noted that CSTO members may consider the possibility of a limited deployment of national contingents on the territory of the Russian Federation or Belarus. But only after "an official statement about Ukraine's attack on their territory."
As of today, all CSTO member countries (except the Russian Federation and Belarus) are neutral on the issue of the Russian invasion. None of them recognized the annexation of Crimea and the independence of the "DNR" and "LNR".
Recall, the Collective Security Treaty Organization (CSTO) is a military-political international organization, which includes Belarus, Armenia, Kazakhstan, Kyrgyzstan, Russia, Tajikistan. The CSTO Charter allows the use of the military and peacekeepers of the member countries only on the territory of the member countries of the treaty at their request. Ukraine is not a member of the CSTO.
On April 15, Kazakh Defense Minister Ruslan Zhaksilikov said that Kazakhstan had not received a request to send national troops to Ukraine. He confirmed that during the last meeting of the CSTO military committee, the issue of participation in the armed conflict on the territory of Ukraine was not considered.
Recall that this year Kazakhstan refused to hold a military parade on Victory Day on May 9 this year. The reasons for this decision are not reported.

News from Perild.com in Telegram. Subscribe to our channel