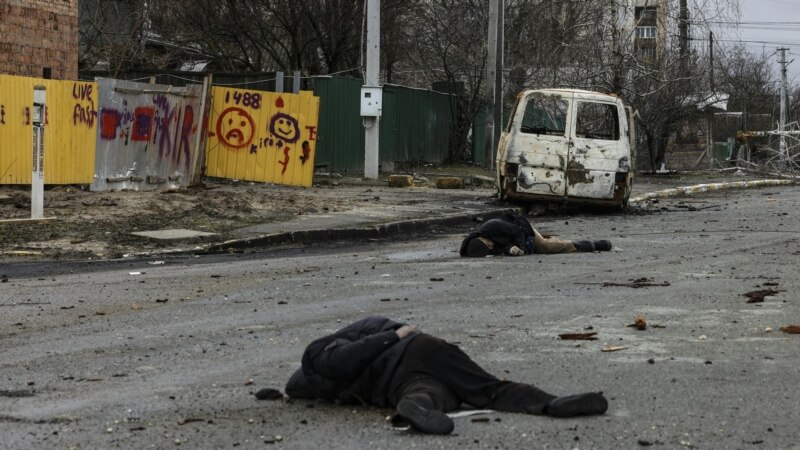 Prosecutor General of Ukraine Irina Venediktova called the names of ten Russian servicemen who, according to her, are involved in the torture of civilians and looting in the city of Bucha, Kyiv region, where hundreds of civilians died during the Russian occupation.
The names of the Russian military, whom the Ukrainian prosecutor's office suspects of crimes, listed on the Facebook page of Venediktova, where photos are also published. We are talking about soldiers in ranks from private to corporal, there are no officers among them.
According to the Buchansk district prosecutor's office, we are talking about servicemen of the 64th separate motorized rifle brigade of the Russian Army Ground Forces, which occupied positions in Bucha in March. Venediktova recalled that Russian President Vladimir Putin conferred the honorary title of "Guards" on this bait.
The investigation is said to have shown that the soldiers "took unarmed civilians hostage, starved them to death, kept them on their knees with their hands tied and closed their eyes, and abused them" and "robbed local residents, taking personal belongings and" trophy "household appliances". According to Venediktova, their involvement in the murders is also being checked.
Edition "Agency" contacted with two people whose names are named in the list of the Ukrainian prosecutor's office – Dmitry Sergienko and Sergey Peskarev. Both of them said that they had served in the 64th motorized rifle brigade, but had retired from the army for several years. The wife of corporal Mikhail Kashin also said that her husband had not served for a long time and had not been to Bucha.
In early April, after Russian troops withdrew from Bucha, Ukrainian authorities and journalists reported on the many bodies of the dead on the streets of the city, as well as a mass grave with dozens buried. Including were found dead with their hands tied. Residents died during the stay of Russian troops in Bucha. The authorities of Ukraine and Western countries have accused Russian military personnel of war crimes, and the word "genocide" is also heard in the assessments of the events in Bucha.
The Russian Ministry of Defense called photographs and video footage of civilians killed in Bucha near Kyiv "staged by the Kyiv regime for the Western media." Russian President Vladimir Putin also declares a "provocation".