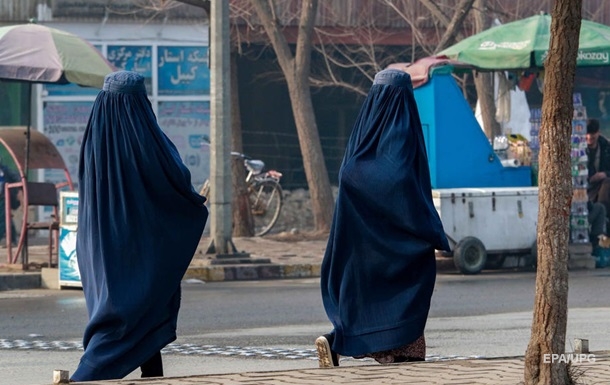 Taliban obliges Afghan women to wear burkas
Afghan women can now leave the house only if they have "important business", otherwise, they must be indoors.
The radical Islamist movement "Taliban" announced the mandatory wearing of a burqa in public places for all women in Afghanistan. The corresponding order was signed by Taliban leader Haibatula Akhundzada on Saturday, May 7, reports AFP.
"They should wear a chadori (burqa) as it is traditional and respectful. Those women who are not too old or young should cover their faces, except for their eyes, in accordance with Sharia directives, in order to avoid provocations when meeting mahram men," – quotes AFP text of the order.
The order also notes that it is better for women to stay at home if they do not have important business outside of it.
If a woman fails to comply with the order, her husband or father is threatened with imprisonment. Sanctions will also affect women civil servants. If they don't wear a cloak, they can be fired.
A burqa is an outerwear for women in Islam that completely covers the body and face, and a thin mesh is provided in place of the eyes so that you can see.
Despite the lack of international recognition, Taliban delegations have already visited Russia, Iran, Qatar, Pakistan, China and Turkmenistan in an attempt to establish official relations.
Western countries refuse to recognize the Taliban's rule for fear that they will repeat the brutality they committed while in power in Afghanistan from 1996 to 2001.
Recall, Russian Foreign Minister Sergei Lavrov, during a meeting with the Afghan Foreign Minister in China, announced the accreditation of the first diplomat from the Taliban in Russia.
Earlier, the UN announced executions in Afghanistan, the Taliban deny it. More than two-thirds of the deaths were the result of extrajudicial executions by the Taliban, despite the announcement of "general amnesties," the UN said.

News from Perild.com in Telegram. Subscribe to our channel