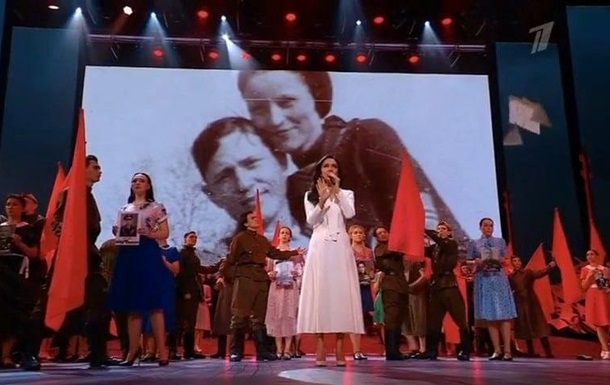 Photo: Meduza
The Russians added Americans Bonnie and Clyde to the "war veterans"
The concert showed photographs of the inhabitants of the Soviet Union, who were separated by the Second World War.
In Russia, on Channel One, during a concert by May 9, the American robbers Bonnie and Clyde were shown on the screen instead of front-line soldiers. Photo on Monday, May 9, published a resource Jellyfish.
So, live on the First TV channel, which broadcast a solemn concert on the occasion of Victory Day, on the screen, when the singer Zara sang the song "If there was no war", a picture of American robbers appeared.
The organizers planned to show the couples who were separated by the war. But, among the rest, they showed a photo from the Internet, which depicts the famous American robbers Bonnie Parker and Clyde Barrow, who operated during the Great Depression – long before World War II.
Bonnie and Clyde are famous American criminals who robbed banks and rural shops in US towns. Between 1931 and 1934, together with their gang, they killed at least 9 policemen and 4 civilians. Bonnie and Clyde were romantically involved with each other.
The careful coverage of their crimes by the American press popularized them with the public during the economic crisis of the Great Depression era. Subsequently, pop culture and the film industry have created an attractive and adventurous image of gangsters in love, fighting together against the hardships of life against the system of government and the police.
Recall, Putin said that NATO countries were preparing an attack on the Crimea and Donbass. And the attack on Ukraine was "forced, timely and the only right decision."

News from Perild.com in Telegram. Subscribe to our channel