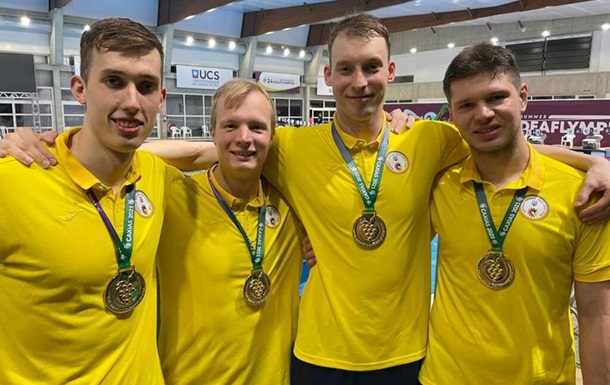 Photo: deafsport.org.ua
Ukraine won another 13 medals on the next day of the Deaflympiad
The Blue-Yellows continue their successful performance at the competitions in the Brazilian city of Caxias do Sul.
The Ukrainian team won 13 medals on the next competitive day at the Deaflympiad-2021. On the seventh day of the Games, among athletes with hearing impairments, our athletes received eight gold, one silver and four bronze medals.
Thus, the Ukrainians brought the total number of medals to 77, and are more than twice ahead of the closest pursuer in this indicator – the US team.

All medals of Ukraine on the seventh day of the Deaflympiad

Gold:
Elizaveta Topchanyuk (cycling, criterium);
Nazar Levitsky and Anna Fedoseeva (orienteering, mixed relay);
Aleksey Lazebnik and Inna Afonchenko (shooting, air pistol, 10m, mixed);
Natalia Ursulenko (athletics, shot put);
Solomiya Kuprich, Kristina Kinyaikina, Dmitry Rudenko, Sergey Drach (athletics, mixed relay, 4×400 m);
Maxim Ovcharenko and Roksolana Budnik (table tennis, mixed team);
Irina Tereshchenko (swimming, 100 m, breaststroke);
Vladislav Adamovich, Artem Karnish, Ivan Zinenko, Maxim Dudnik (swimming, 4x200m relay, free style).
Ukrainians won gold in the mixed relay in athletics / deafsport.org.ua
Ukrainians won gold in the mixed relay in athletics / deafsport.org.ua

Silver:
Ekaterina Potapenko (athletics, heptathlon).

Bronze:
Nikolai Nosenko (athletics, 100m run),
Gennady Zakladnoy and Yulia Khodko (table tennis, mixed team);
Vladislav Kremlyakov (swimming, 50m backstroke);
Maria Levanovich (taekwondo, up to 67 kg).

Medal standings of the Deaflympiad-2021:

1. Ukraine – 77 medals (39 gold, 16 silver, 22 bronze);
2. USA – 34 medals (14 gold, 4 silver, 16 bronze);
3. Japan – 24 medals (10 gold, 6 silver, 8 bronze);
4. Iran – 25 medals (8 gold, 7 silver, 10 bronze);
5. South Korea – 24 medals (6 gold, 11 silver, 7 bronze).

News from Perild.com in Telegram. Subscribe to our channel