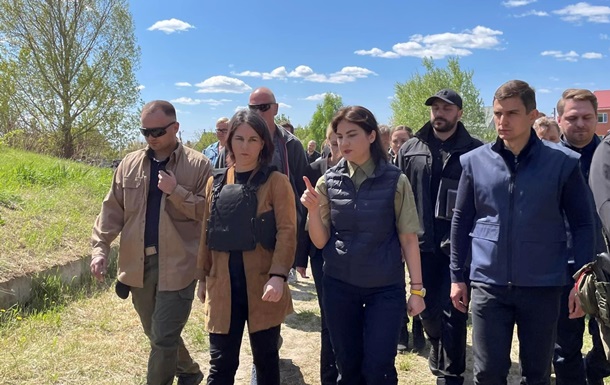 Photo: gp.gov.ua
Irina Venediktova and German Foreign Minister Annalena Burbock visited Bucha and Irpin
Prosecutor General Irina Venediktova, together with German Foreign Minister Annalena Berbock, visited Bucha and Irpen, which are recovering from Russian occupation.
Irina Venediktova noted that almost a third of those killed in the Kyiv region were victims of Russian invaders in Bucha. More than a hundred bodies were exhumed from the graves near the local church. This is stated on website Office of the Attorney General on Tuesday, May 10.
"Our task is justice for the victims, justice for war criminals who killed people who simply went for food or rode a bicycle. The occupiers tortured and mocked people simply because they had a Ukrainian in front of them. Now we have already identified the first 10 servicemen of the Russian Federation , suspected of torture and the likely killer of four men on Yablonskaya Street," the Prosecutor General stated.
Irina Venediktova also noted that today the prosecutors of the Office of the Prosecutor General reported suspicion to three more servicemen, already known to the whole world for their cruelty, of the 64th separate motorized rifle brigade of the 35th combined arms army of the Russian Federation. The investigation established that they broke into a private house in Bucha and shot two men in the head.
"We are working to ensure that every Russian executioner is installed, but work in the territories is hampered by significant mines," the prosecutor general said.
With the head of the German Foreign Ministry, they discussed the possibility of attracting German mine clearance experts and the participation of forensic specialists in helping Ukrainian specialists. German Foreign Minister Annelena Berbock said that Germany is ready to assist Ukraine in every possible way in investigating war crimes.
Recall that the court went to the first case of full-scale aggression of the Russian Federation – an indictment against Russian General Denis Lyamin.
Earlier, Prosecutor General Irina Venediktova said that out of 290 bodies of civilians in Irpin, who were exhumed for examination and reburial, 105 remain unidentified.

News from Perild.com in Telegram. Subscribe to our channel