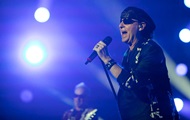 The team was shocked by the Russian attack on Ukraine and could not believe what was really happening.
The famous singer of the legendary rock band Scorpions, Klaus Meine, spoke about how the idea was born to change the words of the cult song Wind of Change and remember in it about Ukraine. The star gave an interview to TSN.
As you know, in March of this year, during a concert in Las Vegas, the musicians dedicated the performance of the 1990 song to Ukrainians. Instead of the phrase "walking along the banks of the Moskva River to Gorky Park," they sang "Now listen to my heart – it says Ukraine."
Meine noted that they decided to change the lyrics of the song so as not to romanticize Russia.
"We were just getting ready for a new tour, we just had a new album out, and we were preparing a show in Las Vegas. You know, I thought that now is not the time to romanticize Russia with lyrics like "along the banks of the Moscow River to Gorky Park" I wanted to say with these words that we support Ukraine in this very difficult situation," the celebrity said.
Recall that the previously famous Irish singer-songwriter Bono, the frontman of the legendary rock band U2, came to Kyiv and sang at the Khreschatyk metro station.

Scorpions refused to perform in Crimea

News from Perild.com in Telegram. Subscribe to our channel