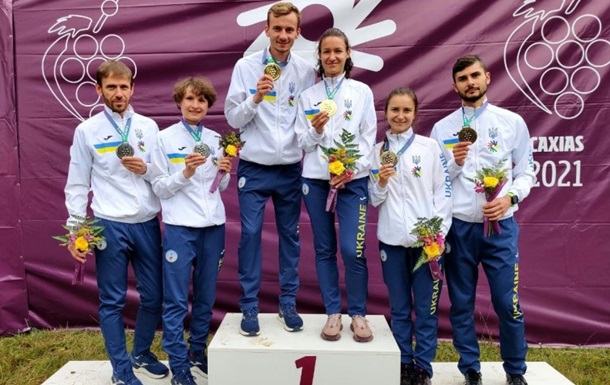 Photo: Ministry of Youth and Sports
Ukrainian athletes lead the Deaflympiad by a huge margin
The Ukrainian national team continues to successfully perform at competitions among athletes with hearing impairment.
Ukraine continues to confidently perform at the Deaflympiad in Brazil. Our athletes have already won 103 medals in nine competitions. This is the best indicator for the national team in the history of performances.
The previous achievement was dated 2017 and amounted to 99 awards. Over the past day, Ukrainians won 14 medals of various denominations: 5 gold, 7 silver and 2 bronze.

Gold:
shooting – Violetta Lykova (small-caliber rifle, 50 m, prone);
sports orientation – Anna Fedoseeva (women) and Dmitry Levin (men);
athletics – Rimma Filimoshkina (hammer throw) and Anastasia Sidorenko (1500 meters run).

Silver:
shooting – Dmitry Petrenko (small-caliber rifle, 50 m, prone);
Sergey Fomin (high-speed shooting from a small-caliber pistol, 25 m);
orienteering – Yana Melnik (women) and Alexander Sankin (men);
athletics – Yulia Kisilova (hammer throw), Yulia Matvievskaya (long jump), Yulia Shapoval (running 100 m/b).

Bronze:
Anna Androsovich and Ruslan Nikolaenko (orienteering).
In the medal standings, the Ukrainians confidently take the first place, far ahead of the representatives of other national teams.

Deaflympiad medal standings after 9 days:

1. Ukraine – 47 + 29 + 27 (103)
2. USA – 18+5+18 (41)
3. Japan – 12 + 8 + 10 (30)
4. Republic of Korea – 8+13+12 (33)
5. Iran – 8 + 7 + 10 (25)

News from Perild.com in Telegram. Subscribe to our channel