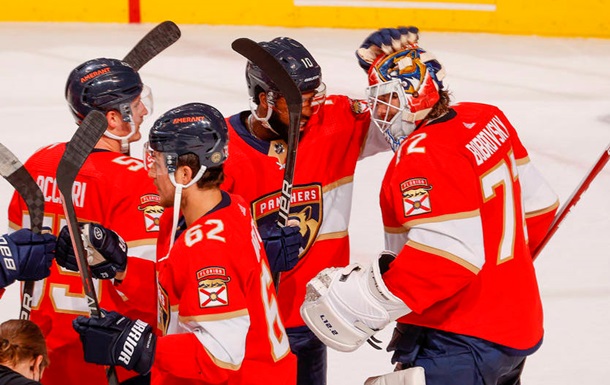 Photo: Getty Images
Florida made an epic comeback in the game with Washington
In the National Hockey League last night, regular matches of the Stanley Cup draw took place.
Rangers, Calgary and Florida were able to defeat rivals at their respective venues in the playoff series. The duel with participation of "Panthers" came out especially bright. The winners of the regular season lost on their ice to Washington 0:3, but they managed to turn the tide of the fight and defeated the capital's hockey players 5:3. Thus, making the score in the series 3:2 in his favor.
The Rangers, also 5:3, beat Pittsburgh, but in the series ahead of the Penguins 3:2. Calgary was stronger than Dallas 3:1. The score in the series is 3:2 in favor of the "lights".

NHL. Playoffs. 12 May

Rangers – Pittsburgh – 5: 3 (0: 1, 3: 2, 2: 0)
Washers: 0:1 – 11 Genzel (Matheson, Rust), 0:2 – 28 Letang (Zucker, Malkin), 1:2 – 36 Fox (Stroum, Kopp), 2:2 – 37 Lafrenière (Trumpet, Kakko), 3:2 – 38 Trumpet (Miller, Panarin), 3:3 – 39 Genzel (Malkin), 4:3 – 43 Chitil (Vatrano, Lafrenière), 5:3 – 60 Lindgren
Series score: 2-3

Florida – Washington – 5: 3 (0: 1, 3: 2, 2: 0)
Washers: 0:1 – 8 Oshi (Kuznetsov, Carlson), 0:2 – 23 Schulz (Ovechkin, Eller), 0:3 – 24 Oshi (McMichael, Kuznetsov), 1:3 – 27 Verhag (Girou, Barkov), 2:3 – 33 Hernqvist (Verhaag), 3:3 – 35 Reinhart (Bennett, Verhaag), 4:3 – 44 Verhag (Barkov), 5:3 – 56 Giroud (Forsling, Verhaag)
Series score: 3-2

Calgary – Dallas – 3: 1 (0: 0, 0: 1, 3: 0)
Washers: 0:1 – 34 Robertson (Lindell, Benn) 1:1 – 47 Backlund (Colman, Mangipani), 2:1 – 51 Mangipani (Zadorov, Backlund), 3:1 – 60 Lewis (Lindholm, Gaudreau)
Series score: 3-2

News from Perild.com in Telegram. Subscribe to our channel