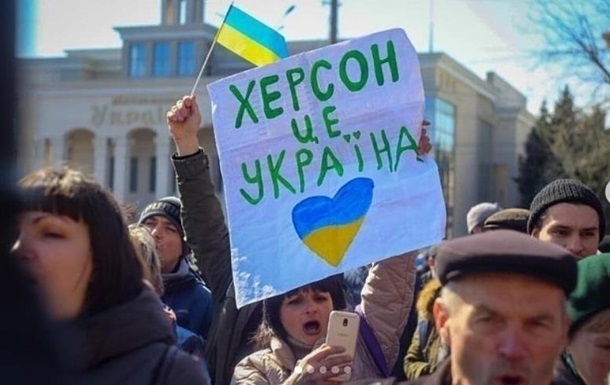 Photo: instagram.com/p/CcuNtC-oipR
Kherson region is a Ukrainian territory
The intensity of the war is such that there will be no more mercy for the traitors, Mikhail Podolyak warned.
All crimes of the Russian occupiers and their collaborators in the Kherson region are recorded, and in the final there will be devastating criminal consequences. About it informed adviser to the head of the Office of the President Mikhail Podolyak on Thursday, May 12.
"I want to officially emphasize that the Office of the President is monitoring all the movements of the Russian invaders in the Kherson region. That's all. We record the crimes of Russians in full – violence against people, mass abductions, torture in basements, theft of property, attempts to create fictitious administrative structures. We see and know about everything. All crimes are documented, and in the finale there will be absolutely devastating criminal consequences," Podolyak wrote in his Telegram.
He added that all the few names of collaborators are also recorded.
"Each of them will definitely be in the dock. The intensity of the war today is such that there will be no more mercy for the traitors. Therefore, I repeat once again: each of the collaborators will face the toughest possible dock with subsequent long prison terms. That is, if they live to see their personal trials, and will not receive an "award" right now. Our special "award department" works around the clock. Just wait your turn, "said the adviser to the head of the OP.
Podolyak recalled that the Kherson region is Ukrainian territory and will be liberated by the Armed Forces of Ukraine.
"Regardless of coming up with new names or ideas for joining other 'Russian gangster galaxies,'" he summed up.
On the eve it was reported that the "authorities" of the Kherson region appointed by the occupiers intend to appeal to Russian President Vladimir Putin with a request to include the region into Russia.
In turn, the Kremlin reacted with restraint to this intention, saying that the opinion of local residents should be taken into account. And the President's Office advised Kherson collaborators to prepare a request for pardon.

News from Perild.com in Telegram. Subscribe to our channel