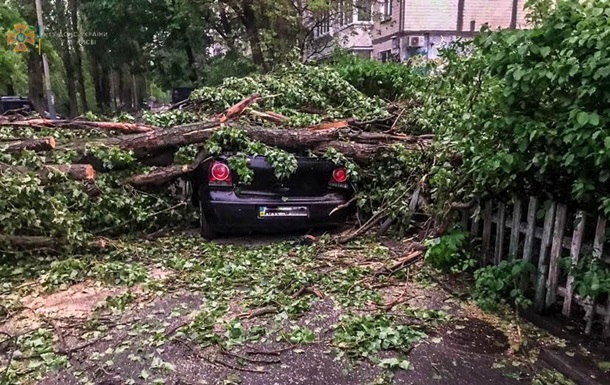 Photo: State Emergency Service
Rescuers unblocked cars with chainsaws
The most difficult situation was on Serpova Street in the Svyatoshinsky District, where a fallen tree destroyed an electrical pylon and damaged four cars.
Employees of the State Emergency Service in the city of Kyiv on Thursday evening made 11 trips to eliminate the consequences of bad weather. About it informs press service of the department on Friday, May 13.
"In general, calls for cleaning up fallen trees on cars and carriageways came from the Dnipro, Shevchenkivsky, Pechersky, Goloseevsky, Svyatoshinsky and Podolsky districts," the report says.
The first call came at 20:04: on the street. Entuziastov, 7/3 in the Dnipro district of the capital, where a tree fell on a parked car. With the help of a chainsaw, rescuers unblocked the car.
"The most serious call was on Serpovaya street, 9 in the Svyatoshinsky district of the capital. There, as a result of a tree fall, an electrical pole was destroyed and four cars were damaged. With the help of chainsaws, rescuers cleared the roadway of fallen trees and freed the dumped cars," told the State Emergency Service.
In just a short period of time, rescuers freed 11 cars and five roadways from fallen trees.
11 units of equipment and 46 people were involved in the elimination of the consequences of bad weather in the capital.
On the eve it was reported that a hurricane swept through Kyiv and three regions of Ukraine. High-voltage lines supplying 100,000 customers in the Obolonsky, Podolsky and Svyatoshinsky districts were cut off in the capital because of the wind.
It was also reported that in Kyiv the wind broke the legendary linden of Peter Mohyla. According to legend, the linden tree was planted by Metropolitan Peter Mohyla in 1635 in honor of the partial restoration of the Church of the Tithes.

News from Perild.com in Telegram. Subscribe to our channel