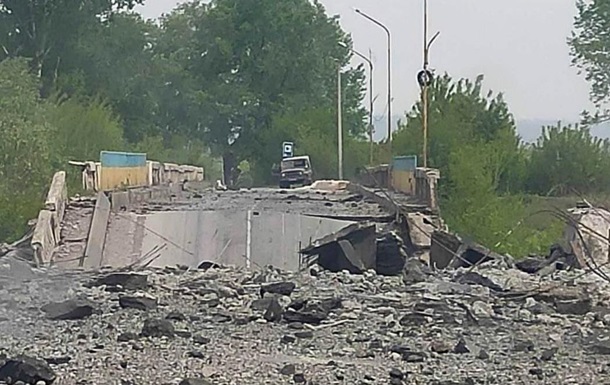 Photo: Luhansk Regional State Administration
Destroyed bridge across the Borovaya river
There is no longer any transport connection between Severodonetsk and Rubizhne, Sergey Gaidai stated.
Over the past day, Russian invaders fired at residential areas of settlements in the Luhansk region 31 times. Almost 60 houses and a bridge were destroyed, two people died. About it informed the head of the region Sergei Gaidai on Friday, May 13.
According to him, seven high-rise buildings were damaged in Severodonetsk, one in Lisichansk. However, Popasnyanskaya and Gorskaya communities suffered the most, where the invaders carried out assault operations in the direction of Orekhovo and in the Kamyshevakhi region.
"They did not have success in moving forward, but many houses were destroyed – more than 50 houses, 15 – in Vrubovka, 12 – in Zolote, 11 – in Kamyshevakh, six – in Toshkovka, four – in Troitsky and nine more in other villages of the Popasnyanskaya community In addition, during the day, rescuers extinguished the fire in a coal warehouse in Lisichansk," Gaidai said.
According to him, a man from Lisichansk received injuries incompatible with life. And in a hospital in Dnipro, an 11-year-old boy from Zolote, who was in an extremely serious condition, died.
Gaidai noted that the Russians continue to focus their main efforts on establishing full control over Rubizhne.
"The destroyed bridge (across the Borovaya River – ed.), which was the first to be rebuilt in the Luhansk region after the occupiers were expelled in 2014 – the transport connection between Severodonetsk and Rubizhne no longer exists," the head of the UVA stated.
On the eve of the video showed the extent of destruction in the city of Popasna, Lugansk region. The Armed Forces of Ukraine retreated from this settlement on May 8.

Armed Forces of Ukraine eliminated the division of the occupiers in the Luhansk region

News from Perild.com in Telegram. Subscribe to our channel