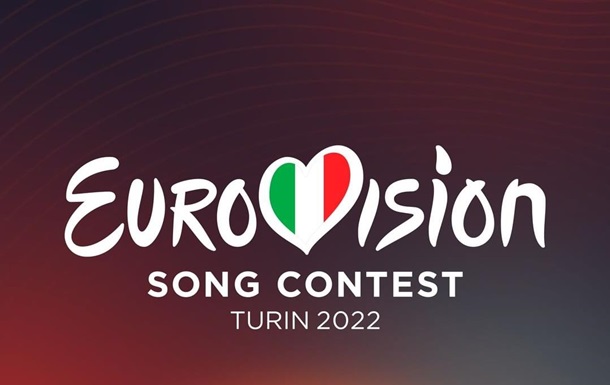 Photo: instagram.com/eurovision
The order of performances in the Eurovision-2022 final has been published
Tomorrow, May 14, 25 countries will compete for victory in the competition – ten each from two semi-finals and the "big five"
The final of the Eurovision Song Contest 2022 will take place on Saturday, May 14. The organizers named the order of participants. A table with the numbers of each country appeared on the official Instagram of the contest.
The Ukrainian group Kalush Orchestra will perform in the first part of the show under number 12.

The order of performances at Eurovision 2022
Czech Republic: We Are Domi – Lights Off

Romania: WRS – Llámame

Portugal: MARO – Saudade Saudade

Finland: The Rasmus – Jezebel

Switzerland: Marius Bear – Boys Do Cry

France: Alvan & Ahez – Fulenn

Norway: Subwoolfer – Give That Wolf a Banana

Armenia: Rosa Linn – Snap

Italy: Mahmood & Blanco – Brividi

Spain: Chanel – SloMo

Netherlands: S10 – De diepte

Ukraine: Kalush Orchestra – Stefania

Germany: Malik Harris – Rockstars

Lithuania: Monika Liu – Sentiments

Azerbaijan: Nadir Rustamli – Fade To Black

Boy: Jeremiah Makiese – Miss You

Greece: Amanda Georgiadi Tenfjord – Die Together

ICELAND: Sisters – With the Rising Sun.

Moldova: Zdob and Zdub and the Advahov Brothers – The train

Sweden: Cornelia Jakobs – Hold Me Closer

Australia: Sheldon Riley – Not The Same

Great Britain: Sam Ryder – SPACE MAN

Poland: Ochman – River

Serbia: Konstrakta – In Corpore Sano

Estonia: Stefan – Hope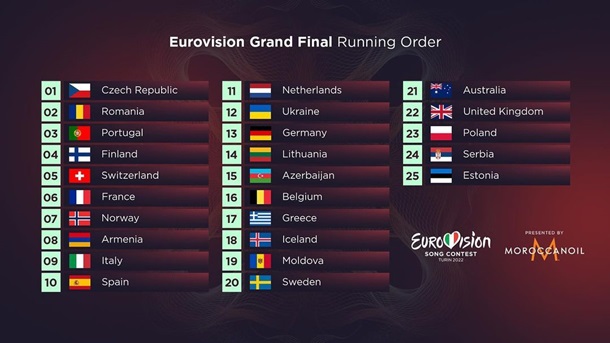 Photo: instagram.com/eurovision
The order of performances at Eurovision 2022
Recall that on May 14, 25 countries will compete for the championship in the competition – ten each from two semi-finals and the "big five": Great Britain, Germany, Italy, Spain and France. Among the finalists and Ukraine.
Representatives of Switzerland, Armenia, Iceland, Lithuania, Portugal, Norway, Greece, Moldova and the Netherlands reached the final on May 10.

News from Perild.com in Telegram. Subscribe to our channel