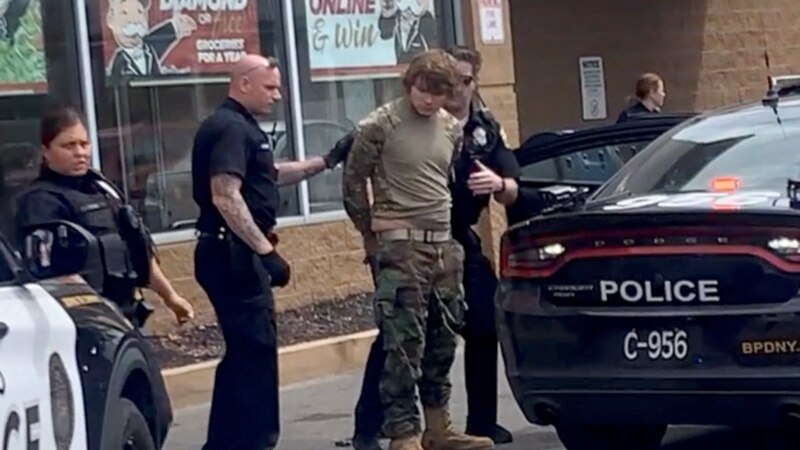 Ten people were killed and three injured in a shooting at a supermarket in Buffalo, New York. The police detained an 18-year-old young man, allegedly, he committed a crime motivated by racial hatred, reported CNN.
how told CBS, citing police, a man with a rifle entered the Tops Friendly Markets store at around 2:30 pm local time (10:30 pm Moscow time) on May 14. He was wearing a bulletproof vest and a helmet. The criminal also had a camera with which he broadcast the crime on Twitch.
According to Buffalo Police Commissioner Joseph Gramaglia, the suspect opened fire while still in the parking lot, where he killed three people and wounded another. Only then did he go to the supermarket. A retired policeman worked as a security guard there, who fired several shots at the attacker, but he was saved by a bulletproof vest and a helmet. The shooter then killed the guard.
According to Gramagli, in the end, the suspect returned to the entrance to the store and ran into the police. He put a weapon to his neck, but the security forces persuaded the shooter to surrender and detained him.
According to CNN, the suspect's name is Payton Gendron, who pleads not guilty to first-degree murder, which he is charged with following the shooting. The court appointed the young man a forensic medical examination. If found guilty, he faces life imprisonment without parole.
Erie County District Attorney John Flynn said Gendron came to Buffalo from Conklin, about a 3.5 hour drive. It is assumed that the suspect was deliberately heading to the area of ​​the city, which is populated predominantly by African Americans. The prosecutor added that he was investigating possible allegations of terrorism.
Authorities believe the crime was racially motivated, with 11 of the 13 victims being African American. "We are investigating this incident as a hate crime and as a case of racially motivated violent extremism," Steven Belongia, FBI spokesman for Buffalo, said at a press conference.
The suspect was shouting racist slurs during the shooting, according to CBS sources. On the butt of a rifle, Gendron wrote the names of the Norwegian neo-Nazi Andres Breivik, who killed 77 people, and Brenton Tarrant, who fired at mosques in the New Zealand city of Christchurch. Its victims were 51 people, mostly Muslims. Both attackers were sentenced to life imprisonment.
In addition, it is assumed that Gendron published a manifesto filled with hatred on the Internet.