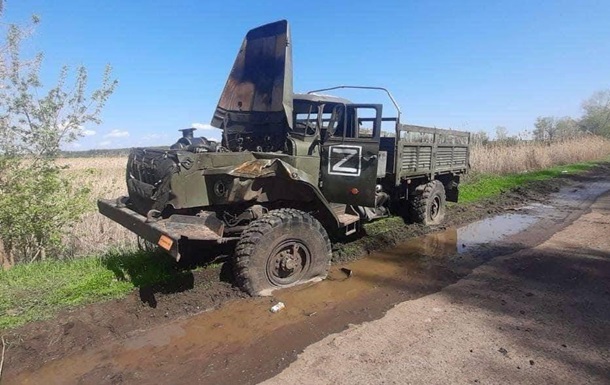 Photo: facebook.com/GeneralStaff.ua
Russia suffers significant losses on the territory of Ukraine
In the Donetsk direction, the enemy continues shelling from mortars, cannon artillery, multiple launch rocket systems and uses aircraft.
The troops of the Russian Federation do not stop conducting offensive operations in the Eastern Operational Zone, concentrating their main efforts in the Donetsk direction. About it informed The General Staff of the Armed Forces of Ukraine in the morning report on May 17.
In the Volyn and Polesye directions, the situation has not undergone significant changes, and the threat of air and missile strikes against infrastructure facilities of Ukraine from the territory of Belarus continues to exist.
In the Seversky direction, the enemy continues to carry out enhanced protection of a section of the Ukrainian-Russian border. In the area of ​​the settlement of Belokopytovo, Sumy region, the enemy fired mortars at the units of the State Border Guard Service of Ukraine.
In the Slobozhansky direction, the Russian army is concentrating its main efforts on curbing the offensive of the Armed Forces of Ukraine.
In the Kharkiv direction, the enemy is trying to hold positions and prevent the advance of Ukrainian troops. In the Slavyansk direction, it carries out understaffing and replenishment of losses, trying to restore the offensive.
In the Donetsk direction, the enemy continues shelling and uses aircraft.
In the Limansky direction, the enemy conducted offensive operations in the Drobyshevo area, in the Severodonetsky direction, he suffered losses and retreated in the Sirotino area. He fought on the Bakhmut, Avdeevsky, Kurakhovsky directions, but had no success.
In the Novopavlovsk and Zaporizhia directions, the enemy did not conduct active hostilities, but carried out fire damage to civilian infrastructure in the areas of Kamensky, Orekhov, Novoselka and Gulyaipol.
In the Yuzhnobuzhsk direction, Russian units fired at the areas of Limanov, Tavrichesky, Trudolyubovka and Osokorovka.
In the Bessarabian direction, as a result of the enemy's missile attack, civilian infrastructure facilities were hit, private buildings were destroyed in the Belgorod-Dnestrovsky district of the Odessa region.
In the waters of the Black Sea near Zmeiny Island, lifting and rescue operations were noted at the site of the destruction of the Russian landing craft.
Over the past 24 hours, 11 enemy attacks were repulsed in the Donetsk and Luhansk directions, five tanks and one anti-aircraft missile system were destroyed Thorsix artillery systems, 12 armored vehicles and one vehicle.