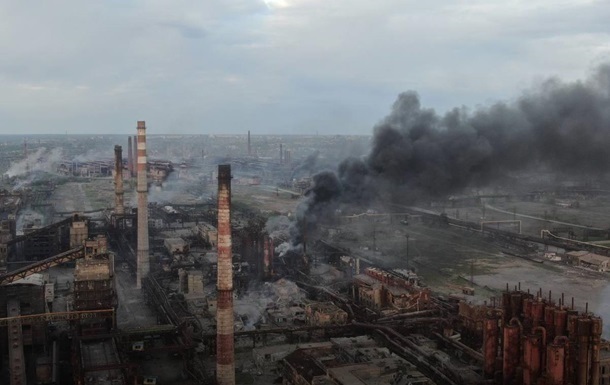 Photo: t.me/polkazov
Ukrainian military held the defense at Azovstal
The adviser to the head of the OP compared the defenders of Azovstal with the legendary heroes of the Battle of Thermopylae.
The defense of Mariupol changed the course of Russia's war against Ukraine and will go down in history as the Thermopylae of the 21st century. Mikhail Podolyak, an adviser to the head of the President's Office, wrote about this on Twitter on May 17.
"83 days of the defense of Mariupol will go down in history as Thermopylae of the 21st century. Defenders Azovstali broke the operational plans of the enemy to capture the east of Ukraine, pulled back the huge forces of the enemy and proved to the whole world the real "combat capability" of the Russians. It completely changed the course of the war," he stressed.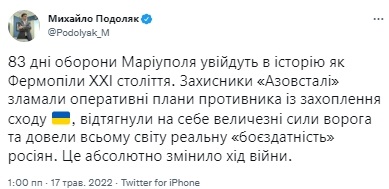 Screenshot: twitter.com/Podolyak_M
---

The Battle of Thermopylae took place in September 480 BC. e. during the Greco-Persian War in the Thermopylae Gorge.

The Persian army, whose strength is estimated by modern historians at 200-250 thousand people, was opposed, according to various sources, from 5200 to 7700 Greeks.

In the first two days of the battle, the Greeks successfully repulsed the attacks of the Persians in a narrow gorge, but by the last, third day, most of the defenders left, fearing the encirclement.

Only detachments of Spartans, Thespians and Thebans remained in place, with a total number of about 500 soldiers. Because of the betrayal of a local resident, the Persians went to the rear of the Greeks and destroyed them.
---
Earlier, the General Staff reported that the Mariupol garrison had completed the assigned combat mission and the commanders of the units located on Azovstali, order given save the lives of personnel.
On May 16, more than 260 Ukrainian servicemen were taken out of the plant to the territory not controlled by Ukraine in order to exchange them in the future.

News from Perild.com in Telegram. Subscribe to our channel