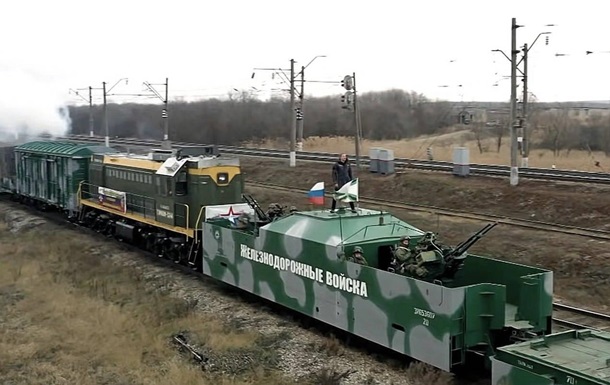 Photo: Screenshot
Russia brought an armored train from the Far East to the Zaporozhye region
Undermining was carried out under the car with personnel. The number of dead and wounded invaders is being specified.

In the Zaporozhye region, an armored train of Russian aggressors was blown up. The explosion occurred in the city of Melitopol, according to the Headquarters of Defense of the Zaporozhye Territory in Telegram Wednesday, May 18th.
According to preliminary information, the explosion of the armored train was carried out in the area of ​​the local meat processing plant.
"The train consists of 10 wagons, the explosion was carried out under a wagon with personnel. As a result of the explosion, two railway tracks were damaged, the armored train was stopped, and the locomotive with 10 tanks of fuel and lubricants, following the armored train, was also stopped. Melitopol is Ukraine!" message.
The number of dead and wounded invaders is currently being specified.
It should be noted that back in early March, Russia brought an armored train from the Far East to the Zaporozhye region. Such special trains such as Amur and Baikal are still in service with the railway troops of the Russian army. They are armed only with ZU-23-2 anti-aircraft guns.
Earlier, the General Staff confirmed the destruction of the bridge near Melitopol. Through this bridge, the invaders regularly transported equipment and ammunition from Crimea to the mainland of Ukraine by rail.

News from Perild.com in Telegram. Subscribe to our channel