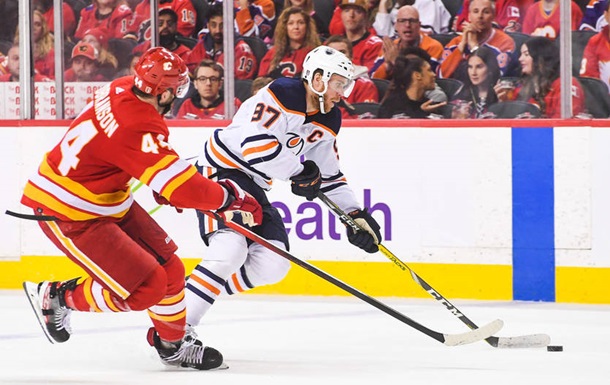 Photo: Getty Images
Calgary and Edmonton staged a scoring extravaganza
In the National Hockey League, teams continue to fight in the Stanley Cup.
Carolina and Calgary started the second round of the Stanley Cup with home wins. "Hurricane" only in overtime were able to put the squeeze on the New York Rangers 2:1.
Meanwhile, in Canada, the audience saw a real scoring extravaganza. "Lights" and visiting them Edmonton scored 15 goals for two. Luckier in this shootout were the hosts. 9:6 – in favor of Calgary.

NHL. Playoffs. Second round

Carolina – Rangers – 2:1 (0:1, 0:0, 1:0, 1:0)
Washers: 0:1 – 8 Hitil (Lafrenière), 1:1 – 58 Aho (Teräväinen, Jarvis), 2:1 – 64 Cole (Kotkaniemi, Smith)
Series score: 1:0

Calgary – Edmonton – 9: 6 (3: 1, 3: 4, 3: 1)
Washers: 1:0 – 2 Lindholm (Godreau, Andersson), 2:0 – 2 Manjipani (Backlund), 3:0 – 7 Richie (), 3:1 – 8 McDavid (), 4:1 – 22 Colman (Andersson , Manjipani), 5:1 – 27 Colman (Lewis, Hanifin), 5:2 – 28 Bouchard (Dreiseitl, McDavid), 6:2 – 29 Tkachak (Toffoli, Gaudreau), 6:3 – 30 Hyman (Nugent-Hopkins ), 6:4 – 35 Hyman (Yamamoto, Nugent-Hopkins), 6:5 – 40 Dreiseitl (McDavid), 6:6 – 42 Yamamoto (Dreiseitl, McDavid), 7:6 – 43 Andersson (Jernkruk, Manjipani), 8:6 – 49 Tkachak (), 9:6 – 58 Tkachak (Gaudreau, Lindholm)
Series score: 1:0

News from Perild.com in Telegram. Subscribe to our channel