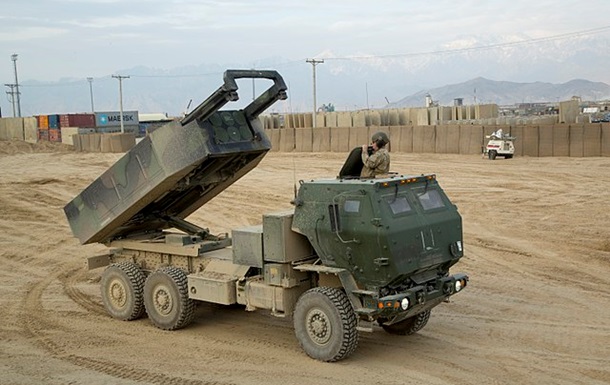 Photo: wikipedia.org
MLRS HIMARS at Bagram Air Base in Afghanistan
The American administration fears a possible reaction from Russia and the escalation of the conflict, the newspaper writes.
The US authorities are refusing to provide Ukraine with the requested multiple launch rocket systems (MLRS), fearing a possible reaction from Moscow. It was announced on May 18 Politico with reference to the staff of the White House and the apparatus of Congress.
According to the interlocutors of the publication, the US administration is constrained by the possibility of using these weapons to strike at Russian territory, which could "expand and prolong the conflict."
It is noted that for several months, MLRS were among the key Ukrainian requests.
Also, President of Ukraine Volodymyr Zelensky mentioned the need to obtain American M142 HIMARS and M270 MLRS multiple launch rocket systems during a speech to the leaders of the G7 in early May.
According to Politico, the United States provided Ukraine with old Soviet-made multiple launch rocket systems from allied stocks, but Kyiv would like to get more accurate and powerful American systems to stop the Russian offensive in the Donbass.
Lockheed Martin's MLRS will allow Ukrainian troops to fire from relatively safe distances, as well as quickly withdraw before Russian drones and artillery can locate them, according to the publication.
These are very different weapons than the M777 howitzers that the (U.S. President Joe) Biden administration has sent to Ukraine over the past few weeks.
Ukrainian officials believe that the longer the West hesitates in connection with the supply of weapons that the Armed Forces of Ukraine need, the worse the consequences of the war for the civilian population of the country will be.
Earlier it was reported that the Pentagon may suspend arms supplies to Ukraine if the US Senate does not approve a $40 billion aid project for Kyiv.
Recall, the head of the Ukrainian Foreign Ministry said that Ukraine needs multiple launch rocket systems and aviation.

News from Perild.com in Telegram. Subscribe to our channel